Elizabeth Banks Returning To Aca-Direct 'Pitch Perfect 3'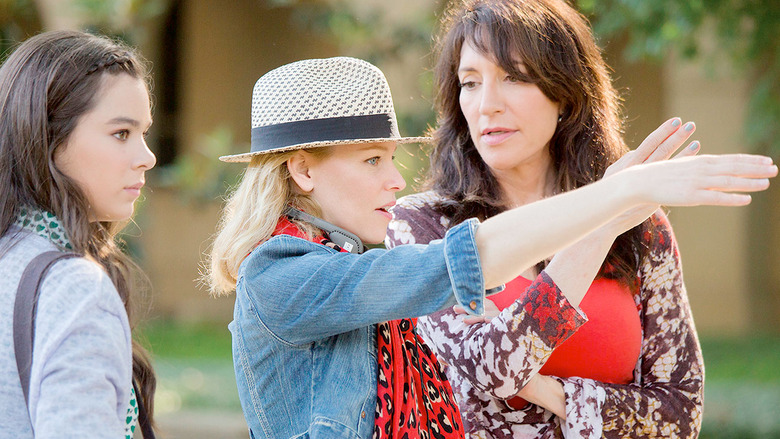 After Pitch Perfect 2 pulled in just over $285 million on a budget of just $29 million, the possibility of Pitch Perfect 3 became a certainty with Anna Kendrick, Rebel Wilson and Brittany Snow on board the sequel. The follow-up was originally slated for a July release, but got pushed back a bit into the old release date once occupied by the delayed Pacific Rim 2. And now the film has a director.
Universal officially has Elizabeth Banks directing Pitch Perfect 3, after making her feature directing debut on Pitch Perfect 2, following a supporting role in the original film that she also produced.
Variety has the update on Banks directing Pitch Perfect 3, which will also bring franchise writer Kay Cannon back to script the sequel slated for release on August 4th, 2017. Banks has been weighing some other options as a director, and she's still attached to developing projects like Red Queen, also at Universal, as well as a reboot of Charlie's Angels at Sony, but she was always in the running for Pitch Perfect 3.
While the comedy musical sequel was a hit for Universal, for my money, it wasn't anywhere near as good as the original film, which was a surprisingly great adaptation of Mickey Rapkin's book Pitch Perfect: The Quest for Collegiate A Cappella Glory. The script lacked focus, weakened some characters, including Anna Kendrick's previously feisty and strong Beca, and didn't deliver as good of a soundtrack.
Basically, Pitch Perfect 2 felt like a sequel that was a surprise to everyone, and it was, with Kay Cannon unsure of where to take the characters next and give them a worthy obstacle to overcome, both with the individual characters and as a group. That's not to say it didn't have any redeeming qualities. There were still some good laughs to be had, and all the a cappella sequences from German team Das Sound Machine were fantastic, but as a whole, the movie felt like it was missing something.
Of course, most of those problems don't entirely feel like they were the fault of Banks. Clearly she made some waves as a director since she's lined up several other projects to direct, and she has even expressed interest in tackling a Star Wars project at some point. But I hope that the problems that plagued Pitch Perfect 2 can be fixed for the next round.
Previously there were talks of newcomer Hailee Steinfeld taking a more prominent role, perhaps setting her up to inherit the franchise, but it's not clear if the studio still intends to go that route. Stay tuned to see who else ends up coming back for Pitch Perfect 3.