Michael Fassbender's Backside Raises All Kinds Of Questions In The First 'Assassin's Creed' Set Photo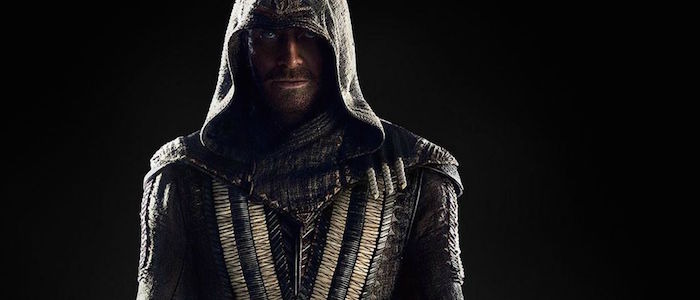 Assassin's Creed is filming right now and we have our fingers crossed that it'll be the movie that finally breaks the dreaded video game adaptation curse. Seriously. We're due for a decent movie based on a video game. If a science-fiction historical epic starring Michael Fassbender and directed by Justin Kurzel isn't something worth watching, then everyone had better just give up trying to adapt games into films in the first place.
The first photo from the set has arrived and it's not going to sway anyone's opinions in any way. However, it may be of interest to already initiated fans, as there are just enough interesting elements present here to get a discussion rolling.
Check out the Assassin's Creed set photo below.
As a first look, it's underwhelming, especially since they already released a picture of Michael Fassbender in costume before filming even started. As a "Hey, here's some weirdness for you to pick over while we make our movie!" image, it's pretty good. So, without further ado, straight from the Twitter feed of Fassbender's production company:
Michael showing that progress really does require sacrifice... #assassinscreedmovie @assassinscreed @AymarMtl pic.twitter.com/STCHNBjxdR

— DMC Film (@DMCFilmOfficial) October 23, 2015
For a photo that is roughly 70% Fassbender backside, there is a lot to take from this. For those who aren't in the know, here is the film's official synopsis, which will help you stay on the same page with the rest of us:
Assassin's Creed follows a character by the name of Callum Lynch who, through a revolutionary technology that unlocks his genetic memories, is able to experience the adventures of his ancestor, Aguilar, in 15th Century Spain. Callum discovers he is descended from a mysterious secret society, the Assassins, and amasses incredible knowledge and skills to take on the oppressive and powerful Templar organization in the present day.
Since he's wearing modern clothing and surrounded by modern furnishing (well, one modern-looking potted plant), we can assume that this is Fassbender as Lynch, who is utilizing sci-fi technology to relive the lives of his ancestors via a machine called an Animus. Naturally, Fassbender will also being playing those ancestors, namely Aguilar, a skilled member of the group known as the Assassins who are waging a constant war against the domineering organization known as the Templars.
That brings us to the sign and the phrase on it: "Progress requires sacrifice." Depending on which Assassin's Creed game you choose to play (and there are too many of them at this point), you entryway into the story is radically different. Sometimes, your character is being held captive and is forced to relive his "genetic memories" for nefarious purposes. Other times, he's doing it willingly to help solve a big, ongoing mystery that is too ludicrous to explain in a single sentence. That phrase sounds like something a Templar character would spout in the games, so our guess is that we're getting out first look at wherever Lynch is being held against his will. We reserve every right to be wrong about that.
And finally, how about those bruises on the back of his neck? This could be nothing special, an injury from a plot point earlier in the film, but we couldn't help but notice that they almost form the shape of the Assassin's Creed logo:

Insert your own Hmmm or scoff right here. Assassin's Creed will open on December 21, 2016. The producers have big, big plans for this one.