Dan Stevens Joins Anne Hathaway For Sci-Fi 'Colossal'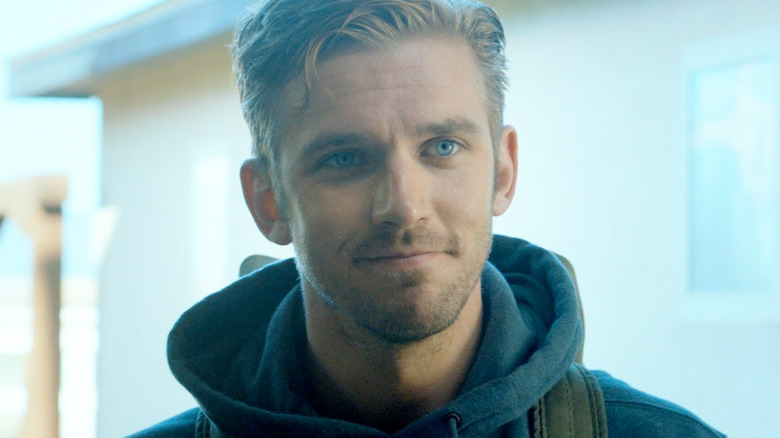 Production is underway right now on Colossal, the next film from Spanish director Nacho Vigalondo (Timecrimes, Open Windows, Extraterrestrial). The film is shooting in Vancouver with Anne Hathaway on board the project that has been described as Lost in Translation meets Godzilla (we'll explain that below). And now one more cast member has just been added.
The Guest star Dan Stevens has taken one of the male leads in the film that has a very strange premise that seems to somehow blend romance and monster movies. Find out more about Dan Stevens joining Colossal and just what the movie is about after the jump.Variety has the news of Stevens joining Colossal, which tells the story of a woman who moves back to her hometown to lick her wounds after losing her job and boyfriend in New York. However, rather than simply finding herself back home, she learns that she's mysteriously connected to some kind of giant monster that has popped up over Seoul, South Korea and is wreaking havoc on the city.
I can only assume that it's her emotional state and turmoil that has manifested this monsters, and whatever happens in her life will have direct consequences on the people of Seoul as they deal with this monster. But that's just speculation on my part.
Still, Dan Stevens will have a big impact on the story as he plays the ex-boyfriend, who initially pushes Hathaway away (that's fun to say), but then ends up fighting to win her back in the end. Stevens is quite the eclectic actor, showing a great range in his performances from a regular role on Downtown Abbey to a stirring turn in The Guest and a delightfully dimwitted supporting part in Night at the Museum: Secret of the Tomb.
Jason Sudeikis (Horrible Bosses) is also on board the film, but it's not entirely clear what his role in all this will be. Maybe he's a new love interest for Hathaway in her hometown or an old spark that gets reignited? And Tim Blake Nelson (Fantastic Four) and Austin Stowell (Whiplash) have roles in the movie too, but their characters also aren't known at this time.
The premise for this movie sounds very refreshing, and it could be a unique approach to romance in the same vein as Scott Pilgrim vs. The World. Vigalondo previously said, "Colossal is my most ambitious script so far, and probably also the most personal one. Having Anne and this terrific team around goes beyond my craziest expectations." This is definitely a project we'll be keeping our eye on, so stay tuned for more.