Common Will Be The Poor Fool Who Goes After John Wick In 'John Wick 2'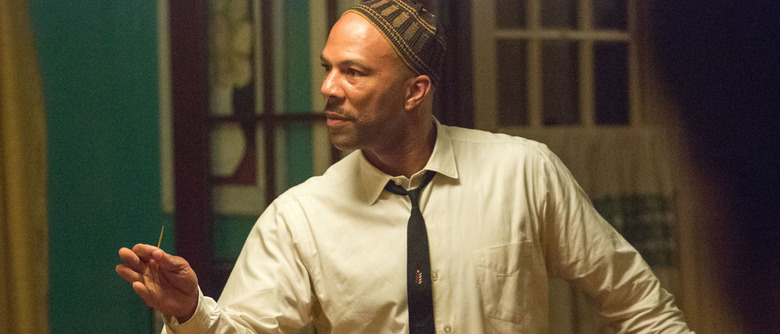 John Wick is thinking he's back for a sequel, and that means he's going to need a fresh crop of baddies to mow down in his pursuit of... well, whatever it is he's after this time. Enter Common, who's just been set to play a villain in John Wick 2. More about the Common John Wick casting, including details on his character, after the jump. 
According to TheWrap, Common will play "the muscle for a female crime lord who comes after Reeves' ex-hitman." Keanu Reeves is back as John Wick, and the first film's co-director Chad Stahelski returns to direct solo. John Wick's other co-director David Leitch recently dropped out to helm the Charlize Theron thriller The Coldest City, but remains on board as executive producer.
The first film followed John Wick, a legendary hitman who is spurred back out of retirement after the death of his puppy, a gift from his late wife. Details on the second film are being kept under wraps, though Reeves has offered some vague hints:
I think we have a really good premise, and it's an organic premise. It's basically — to me there's John Wick and then there's John. You know, John is the married guy whose wife just died, and that five years of his life. Then there's John Wick, who's the mythical assassin. In this, John Wick's past comes and infiltrates John's life and John Wick, in a way, has to fight for John.
And for those of you who squirmed after that adorable beagle was brutally slaughtered in the original film, fret not – Reeves has promised that the sequel will not kill another puppy.
Common just wrapped the DC Comics adaptation Suicide Squad, and will next be seen in Barbershop 3 and NBC's The Wiz Live. He last starred in the Liam Neeson thriller Run All Night, and earlier this year won an Oscar with John Legend for composing the song "Glory" for Selma (which he also starred in, as you can see in the header image).
Shooting on John Wick 2 begins next week, so expect more casting details to come out in the coming days. No release date has been announced.