AMC's 'Into The Badlands' Clip Has More Bone-Crunching Sound Effects Than You Can Swing A Samurai Sword At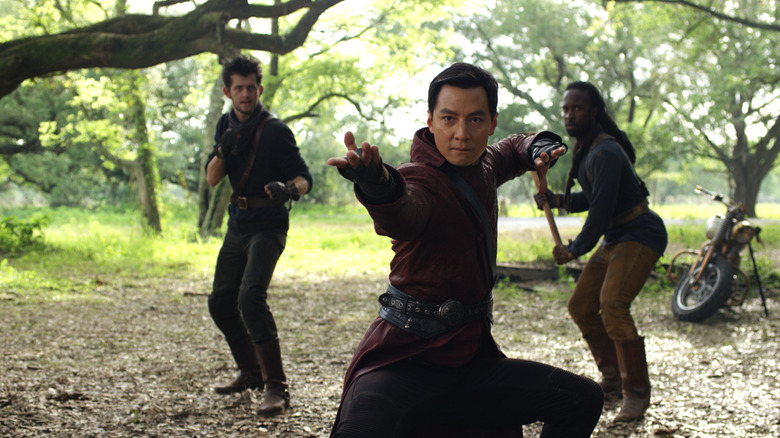 The jury's still out on whether AMC's Into the Badlands looks cool or cheesy (actually, it kind of seems like it's both), but the one thing we can be sure of is that it won't skimp on the action. Last night, the network released a nearly four-minute clip showing off the martial arts prowess of its lead character Sunny, a mysterious warrior played by Daniel Wu. Be warned that there's some pretty noisy violence on display here. Watch the Into the Badlands clip after the jump. 
Into the Badlands is a kitchen-sink mashup that combines martial arts, sci-fi, fantasy, and Western tropes in a setting that looks half steampunk dystopia, half antebellum South. Loosely based on the classic Chinese novel Journey to the West, it follows Sunny as he takes a young boy (Aramis Knight) under his name in a land ruled by feudal barons.
But you don't really need to know any of that to enjoy this Into the Badlands clip. All the kicking and punching kind of speaks for itself.
[via Coming Soon]
The main thing we learn from this Into the Badlands clip is that AMC apparently has a huge budget for bone-crunching sound effects. Once the fight begins in earnest, there's a new one seemingly every two seconds. All that stylish violence is nearly enough to make you forget that Sunny is dressed like Blade decided he was an Autumn.
Into the Badlands premieres November 15 at 10/9c on AMC.
Into the Badlands is a genre-bending martial arts series inspired by the classic Chinese tale Journey to the West. In a land controlled by feudal barons, Into the Badlands tells the story of a great warrior and a young boy who embark on a journey across a dangerous land to find enlightenment. After cities fall into ruins and survivors return to the fields, a new society forms where the strongest prosper and the weak serve.
A high-octane fantasy story filled with martial arts action and a "Tarantino" touch, this series is about an unlikely band of adventurers who embark on a quest through this futuristic world in search of a better life.
Created by AMC Studios and produced by Oscar-nominated Stacey Sher and Michael Shamberg (Pulp Fiction, Erin Brockovich, A Fish Called Wanda, Django Unchained, Contagion), and master martial arts filmmakers Daniel Wu and Stephen Fung (Tai Chi Zero)
Series is written by the creators of hit drama Smallville Al Gough and longtime writing partner Miles Millar (Shanghai Noon, Spider-Man 2), who will also serve as show runners and executive producers.