Help Pixar Alum Carlos Baena Make 'La Noria', A Beautiful Animated Horror Short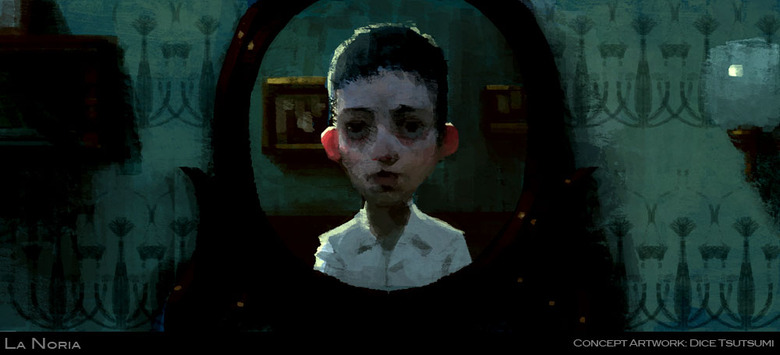 You may not know Carlos Baena by name, but you're definitely familiar with his work. As an animator at Pixar, he was involved with classics like Finding Nemo, Ratatouille, Wall-E, and Toy Story 3, and at ILM he worked on films including Star Wars Episode II and Men in Black II. Now he's striking out on his own as the writer and director of La Noria, a gorgeous animated horror short. Find out how you can help him get it made after the jump. 
Baena has been working on La Noria for several years already, and plans to finally release it in 2016. To help make that happen, he and producer Sasha Korellis (Advantageous) have turned to Indiegogo for that final push. Here's the La Noria pitch video, complete with a one-minute teaser at the end.
In basic terms, La Noria centers around a small boy who draws and builds toy Ferris wheels. ("La noria" means "the Ferris wheel" in Spanish.) After a devastating loss, he encounters some creatures that change his life. While it looks like there'll be plenty of monsters to go around, La Noria won't just be about scares. Baena calls the story a very personal one for him, and envisions the film as telling "dark and emotional journey in a very visual way."
Baena cites as inspiration for La Noria "great Spanish filmmakers such as Victor Erice, Alejandro Almenabar, Guillermo del Toro and Juan Antonio Bayona," as well as "Tomas Alfredson, Kim Jee-Woon, Ray Harryhausen, Stanley Kubrick and Roman Polanski." The dark and nightmarish artwork is influenced by the likes of "Clive Barker, Zdzislaw Beksinski, Nirasawa Yasushi, H.R.Giger and Francisco de Goya."
Based on the brief glimpse above, you can definitely count us in. It's creepy, but it's beautiful, too. To get more details on La Noria, or to help contribute, head over to their Indiegogo page.