'Don Verdean' Trailer: The 'Napoleon Dynamite' Duo Sends Sam Rockwell In Search Of Religious Artifacts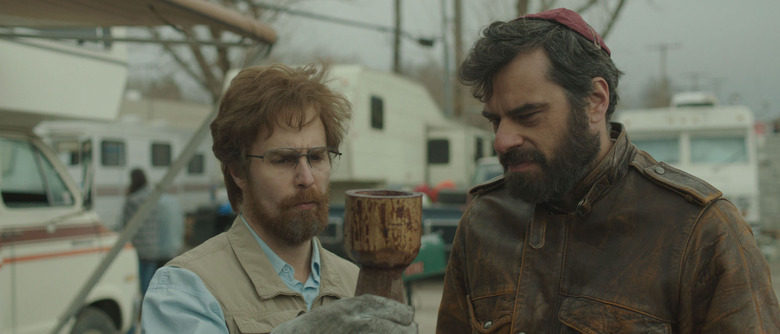 While we wait to see what Disney does with its never-gonna-get-recast icon Indiana Jones, Napoleon Dynamite duo Jared and Jerusha Hess have mounted their own search for the Holy Grail. Don Verdean stars Sam Rockwell as a Biblical archaeologist who gets caught in the rivalry between two congregations led by Danny McBride and Will Forte. Needless to say, this is a much sillier quest than the one Indy went on in The Last Crusade.
Also starring are Jemaine Clement as his Holy Land associate Boaz, Amy Ryan as his assistant Carol, and Leslie Bibb as McBride's wife. Watch the Don Verdean trailer after the jump.
Fandango unveiled the new Don Verdean trailer.
Don Verdean promises a sharp religious and cultural satire, as played out by a collection of memorably quirky characters. However, reactions to the actual film were mixed at the Sundance Film Festival. A representative review from THR describes it as "a comedy with an identity crisis that's more quirky than actually comical." Which isn't what you'd call scathing, but on the flip side, it's not like the positive reviews were all that glowing, either. One generally nice writeup from First Showing, concluded with a wan "It's not the kind of film I'll be raving about the rest of the year, but it's not terrible."
Don Verdean opens December 11.
Don Verdean is a man of faith who has devoted his life to biblical archaeology, scouring the globe in search of artifacts that back up the teachings of Jesus Christ. Now, traveling from town to town, he and his devoted assistant, Carol, spread the gospel by peddling books and DVDs out of his shabby RV, while his Holy Land contacts, Boaz and Shem, do the digging from afar. When evangelical preacher Tony Lazarus offers to bankroll Don's modest roadside operation, the escalating pressure to find increasingly significant relics leads Don and his team down a less-than-righteous path. With more than just the word of God on the line, Don finds himself in the midst of a spiteful feud between two opposing congregations, leaving him to question what is truly important in life.