'Band Of Robbers' Trailer: Tom Sawyer And Huck Finn Are All Grown Up And Still Up To No Good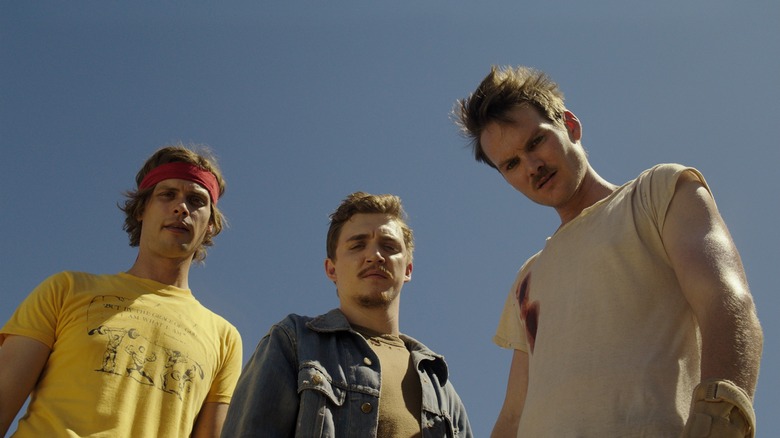 It's been well over a century since Mark Twain first released Tom Sawyer and Huckleberry Finn into the world of American literature, but their youthful spirit rages on in the first trailer for Band of Robbers. Written and directed by Adam and Aaron Nee, the indie film reimagines the classic all-American rascals as grown-up men in the modern day.
Huck (Kyle Gallner), fresh out of prison, is trying to go straight, but Tom (Adam Nee), now a crooked cop, drags him into a plot to find the treasure that eluded them in childhood. Other classic characters like Injun Joe (Stephen Lang) and Becky Thatcher (Supergirl's Melissa Benoist) also appear. Watch the Band of Robbers trailer after the jump.
The Band of Robbers trailer dropped on YouTube.
Band of Robbers has flown mostly under the radar, but it did pick up some solid reviews after its Los Angeles Film Festival premiere this summer. Indiewire described it as "a thinking man's Superbad," complete with "laugh-out-loud moments and thoughtful realizations about young manhood," while The Playlist praised its "a killer premise, polished direction, and a tone as though Anton Chigurh sauntered into Bottle Rocket."
Gravitas Ventures has Band of Robbers in select theaters and VOD on January 15, 2016. Here's a synopsis from the LA Film Fest.
Mark Twain's young heroes Tom Sawyer and Huckleberry Finn spring vividly back to life, this time as modern-day grown men. When Huck is released from prison he hopes to leave his criminal past behind. But his lifelong friend and corrupt cop, Tom, has other plans, having formed the Band of Robbers, a group of misfits dedicated to locating the hidden treasure that eluded the boys in childhood.
Twain aficionados will find myriad references to their beloved characters, but the film stands on its own as a story about two well-intentioned heroes refusing to bid their childhoods goodbye. Charming and hilarious, the Nee brothers make a winning directorial team in this old-fashioned Boys' Own yarn thrown headlong into the present day.