Reese Witherspoon Says The Time Is Right For 'Legally Blonde 3'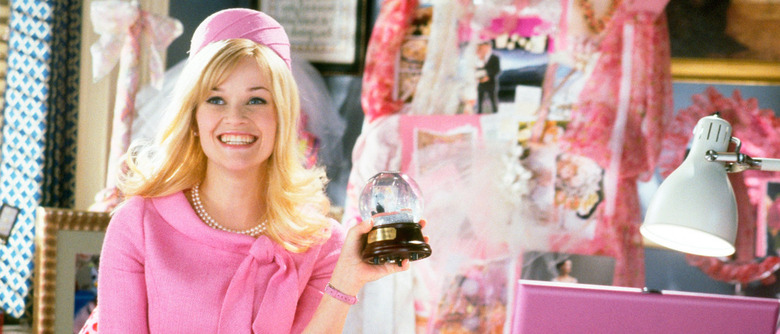 Is Elle Woods gunning for the White House? We haven't seen the preternaturally perky lawyer/activist since 2003's fairly terrible Legally Blonde 2: Red, White & Blonde, but actress Reese Witherspoon says the time is right for a Legally Blonde 3. And as far as she's concerned, the sky's the limit for the character. Watch Witherspoon comment on the possibility of a Legally Blonde 3 after the jump.
Update: Luke Wilson is also up for a Legally Blonde 3. "Apparently, [the sequel] wasn't as highly thought of as the first one," he told James Corden. "That's why we need to do [a third film], to win everybody back." Watch him talk Legally Blonde below.
Witherspoon addressed the Legally Blonde 3 question during an appearance on Lifetime's Fashionably Late with Rachel Zoe.
If you'd rather read Witherspoon's response than watch it, here you go:
A lot of writers over the years have come up with different ideas for it. I actually think it's kind of great right now because we're talking about women in politics and how important that is, to get more women. And I think it'd be kind of a cool thing to have her be a Supreme Court justice or someone who runs for office.
Or President, Witherspoon added at co-host Derek Blasberg's encouragement to "go big or go home." "It would be cool. I think we're ready to see Elle and see what she's up to lately," Witherspoon continued. "That said, I don't know. Call MGM. I have no idea."
Update: Luke Wilson is also in for Legally Blonde 3. Now, who wants to call up Bruiser and see what he's been up to?
Actors engage in sequel talk all the time, and it doesn't necessarily mean anything concrete. (If it did, we'd have four more Firefly movies and another ten seasons by now.) Witherspoon's comments suggest that while various parties have entertained the idea of a Legally Blonde sequel at various points, there's nothing official in the works at the moment.
On the other hand, Sony could really use a hit franchise right now, Witherspoon's still a big star, and female-driven comedies seem to be having a moment. While Legally Blonde 2 was no great shakes, the first Legally Blonde was a big success when it was released in 2001, grossing $141 million worldwide on a reported budget of $18 million. The film has also yielded a direct-to-video spinoff called Legally Blondes, and a Broadway musical. A threequel doesn't seem all that farfetched.
Still not convinced? Let Elle explain her charms in the Legally Blonde clip below.