'The Raid' Remake Loses Director, Studio, And Star?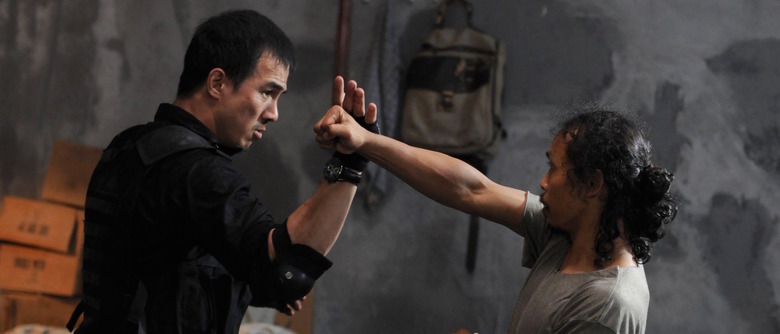 The English-language The Raid remake may have run into the kind of trouble that no amount of gunplay or fisticuffs can solve. According to a new report, the project has just lost director Patrick Hughes, studio Screen Gems, and star Taylor Kitsch. Frank Grillo, as far as we know, remains on board. Read about The Raid remake below.
The latest update on The Raid remake comes from The Tracking Board, whose scoops can be hit or miss. This one seems to pass the smell test, but keep in mind we don't have any official confirmation yet. XYZ Films is now the only production company on board, and is on the prowl for a new distributor and a new director.
Screen Gems scooped up remake rights to Gareth Evans' The Raid back in 2011, shortly after its Toronto International Film Festival debut. The project seemed to pick up steam in early 2014 when Hughes (The Expendables 3) was set to direct, and Grillo and Kitsch signed on not too long after. Evans is still attached as an executive producer on the remake.
Evans' original film centers on an elite SWAT team trying to raid a drug lord's safe house, located in the top floor of a tenement in the slums of Jakarta. When a spotter tips off the criminal, the police officers find themselves trapped on the sixth floor of the building. The original film was notable mostly for its action sequences, with much of the cast (including Iko Uwais and Fast & Furious 6 star Joe Taslim) consisting of actual martial arts experts.
The idea was for The Raid remake to shoot in early 2015, but that window came and went with no real progress. A couple of months ago, Grillo revealed to us that casting was the holdup on the film.
The Raid was a go movie and there was one character, the critical character, that they were just not happy with. There's not a lot of 30-something guys out there that... there's a lot of training, a lot of martial arts training. They weren't going to remake The Raid, which is a beloved film, if they couldn't find a guy who could find the physical stuff and they hadn't been able to do that. So I think we're going to come back around after I'm done with the second 10 [episodes of Kingdom]. We're going to come back around to that.
Between the film's casting woes and now its troubles holding on to a distributor and director, The Raid remake likely won't get rolling again for a while, if ever. Which, frankly, doesn't seem like a huge loss. In the meantime, now seems as good a time as any to revisit (or catch up) the original. Get a little taste with the trailer below.