Photos: Disney's 'Zootopia' Residents Will Include Idris Elba, Octavia Spencer, J.K. Simmons And More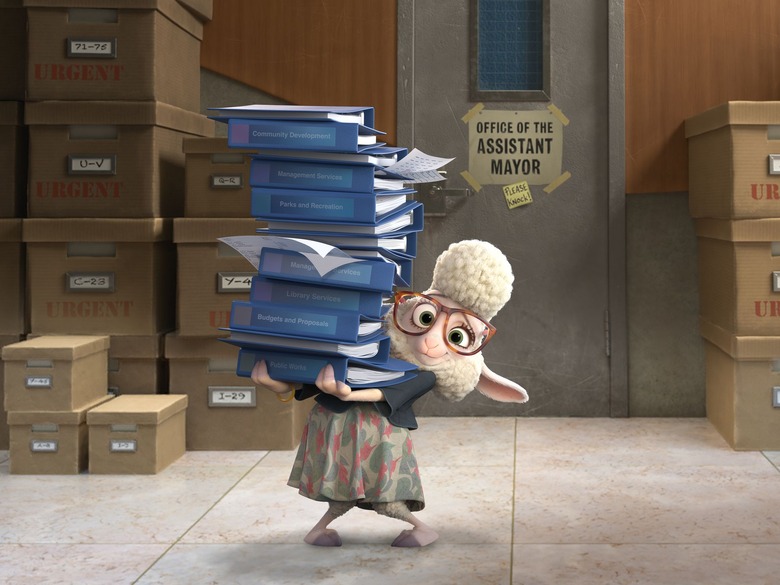 Zootopia is filling up. Disney has announced the full cast of its 2016 animated feature, set in a sprawling metropolis populated by non-human mammals. Joining previously announced leads Jason Bateman and Ginnifer Goodwin will be Idris Elba, J.K. Simmons, Octavia Spencer, Jenny Slate, and more. Oh, and Alan Tudyk will drop by for a role that references his Frozen character.
Get the Zootopia full cast, and see the first photos of their characters, after the jump. 
USA Today got all the details on the new Zootopia cast. Take a look below, and then scroll down for the cast list and character descriptions.
In order, we have:
Chief Bogo (Idris Elba), a cape buffalo and the stern (yet goofy) head of the Zootopia Police Department.
Mrs. Otterton (Octavia Spencer), an otter who turns to the police to find her missing husband.
Leodore Lionheart (J.K. Simmons), a lion and the noble mayor of Zootopia.
Assistant Mayor Bellwether (Jenny Slate), a sheep.
Duke Weaselton (Alan Tudyk), "a small-time weasel crook with a big-time mouth." Frozen fans will remember Tudyk voiced the Duke of Weselton, who continually and angrily insisted that his native land was not pronounced "Weaseltown."
Yax the Yak (Tommy Chong), described as "enlightened" and "laid-back."
Benjamin Clawhauser (Nate Torrence), a cheetah and the donut-loving receptionist of the Zootopia PD.
Flash (Raymond Persi), a sloth who works at the DMV (that's Department of Mammal Vehicles).
Bonnie Hopps (Bonnie Hunt), Judy's mom, and Stu (Don Lake), Judy's carrot farmer dad.
Finnick (Tommy Lister), a fennec fox with a chip on his shoulder.
And of course, you probably already recognize our leads, Judy Hopps (Goodwin) the rabbit and Nick Wilde (Bateman) the fox. Not pictured, but also in the cast, is Shakira, who plays pop star Gazelle, as announced at D23. For even more on the newly announced cast and characters (including Elba's adorable excitement over the prospect of playing a buffalo), head over to USA Today.
Zootopia comes to theaters March 4, 2016. Byron Howard and Rich Moore direct, with Jared Bush serving as co-director.
The modern mammal metropolis of Zootopia is a city like no other. Comprised of habitat neighborhoods like ritzy Sahara Square and frigid Tundratown, it's a melting pot where animals from every environment live together—a place where no matter what you are, from the biggest elephant to the smallest shrew, you can be anything. But when optimistic Officer Judy Hopps (voice of Ginnifer Goodwin) arrives, she discovers that being the first bunny on a police force of big, tough animals isn't so easy. Determined to prove herself, she jumps at the opportunity to crack a case, even if it means partnering with a fast-talking, scam-artist fox, Nick Wilde (voice of Jason Bateman), to solve the mystery.