Watch The First Trailer For AMC's 'Preacher' And Hope God Doesn't Strike You Dead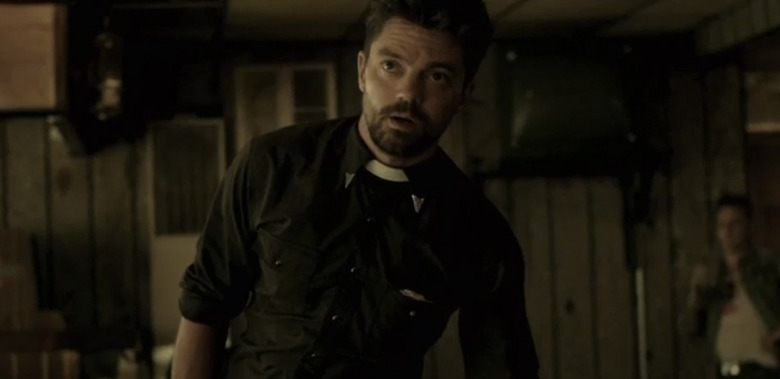 Preacher has been battling to reach the screen in some form since the late '90s, when Garth Ennis and Steve Dillon's controversial, critically praised comic series was still a new kid on the block. Now, years after Kevin Smith and Sam Mendes and Mark Steven Johnson tried and failed to produce big screen and small screen versions, the infamous series is finally arriving as a show on AMC. Seth Rogen, Evan Goldberg, and Sam Catlin are behind this incarnation. Dominic Cooper, Ruth Negga, and Joseph Gilgun are playing the story's central heroes. And now, the first trailer for the series is here. Just be careful – people who associate with Preacher tend to get struck by lightning if they ever step near a church again.
Cleanse yourself with some holy water and watch the first Preacher trailer after the jump.
Here's the first Preacher trailer from AMC:
Based on the seminal '90s Vertigo comic series written by Ennis and drawn by Dillon, Preacher follows Jesse Custer (Cooper), a minister in a small Texas town who finds himself possessed by the unholy spawn of an angel and a demon. Now gifted with "the word of God," which forces others to do whatever he says, Jesse embarks on a quest to confront God Himself, who has abandoned His Creation, and make Him pay. Jesse's allies include an Irish vampire named Cassidy (Gilgun) and his old gunslinging girlfriend, Tulip (Negga). His enemies include the Catholic Church, mysterious government operatives, and the immortal "Saint of Killers," released from heaven to hunt this rogue preacher down.
Strangely, this trailer doesn't even touch the supernatural angle of the comic. Just how long will the marketing dance around what this show is actually about?
So, the big question now is just how many of comic's original elements will make it into the actual series. Preacher the comic is a sprawling story that takes its characters all over the world. Preacher the series, at least its pilot, is not. But that's okay. As it stands, Ennis and Dillon's work is practically unadaptable – too weird, too expensive, and yes, too offensive to ever see a page-for-page adaptation. Preacher has aged, well, interestingly. The series is still generally well-liked, but its juvenile humor occasionally turns new readers away from what is really a tremendous and transgressive genre tale that packs one hell of an emotional wallop. What was edgy in the '90s can be a little eye-rolling today. A straightforward adaptation would do a disservice to the original material as well as the new show.
What Rogen, Goldberg, and Catlin can do is capture the essence of the thing: its giddy, blasphemous mythology, its pitch black humor, its clever horror, its brutal evisceration of anything and everything politically correct, and, perhaps most importantly, its perfectly Texan main character, who carries the contradictions of his home turf with him wherever he goes. Considering the mixture of lowbrow comedy, heavy metal horror, and genuine emotion that made This is the End such a treat, Rogen and Goldberg seem like a great match for this material. And Catlin, who will be running the actual series beyond the pilot, is a Breaking Bad veteran, which means he's earned your trust a few times over. This series probably won't be the Preacher the fans know, but it's going to be a Preacher worth checking out.
Preacher is set to premiere next year.