Star Wars Bits: Ticket Sales, Netflix, Battlefront, Great Wall Of China And More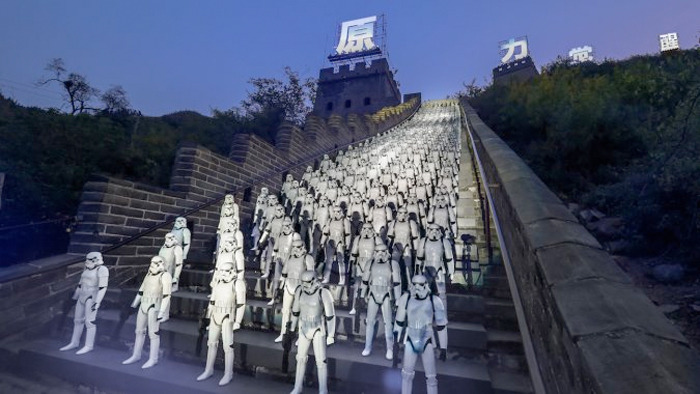 Star Wars Bits is calling to you. Just let it in. This edition of news from a galaxy far, far away includes:
Which demographic makes up most of The Force Awakens ticket buyers?
Netflix will get The Force Awakens in 2016, but not in the United States
Which classic heroes and villains have joined Star Wars Battlefront?
BB-8 reacts to the final The Force Awakens trailer
Pip Andersen's role in The Force Awakens revealed
Why are there Stormtroopers on the Great Wall of China?
Find out how the Shattered Empire comic series links to The Force Awakens
All Nippon Airways begins Star Wars themed flights
Watch the Brooklyn dubbed version of The Force Awakens trailer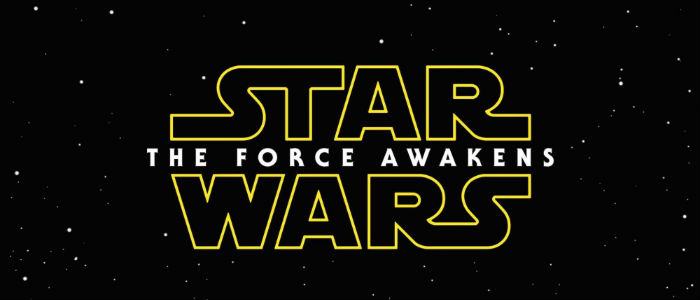 Star Wars: The Force Awakens may have done record-breaking advance ticket sales, but that doesn't mean the sci-fi saga is hitting a whole new audience of people that weren't already excited to see the sequel. Deadline highlights a Movio Media report that says 70% of those buying tickets to the film are males aged 18-49 with the average age being 34.
That's been the target audience of Star Wars for awhile, and it sounds like the times haven't changed much even though there are plenty of female Star Wars fans out there. That means that the Amy Pohler and Tina Fey comedy Sisters should do pretty well with their target audience in that same weekend.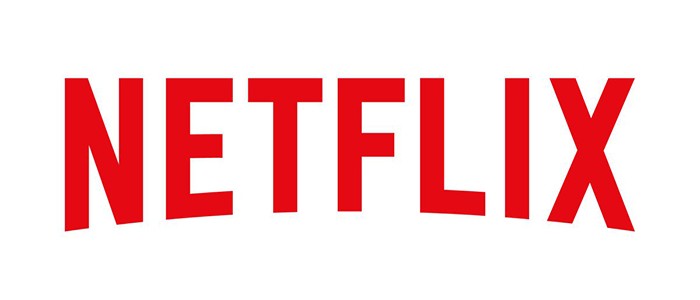 We previously heard Netflix was negotiating to get the rights to stream The Force Awakens when the time comes in 2016, and there has been success with negotiations with Disney. However, if you live in the United States, you're not going to be happy about this news. The Force Awakens will indeed be available on Netflix, but only in Canada.
Variety reports the reason The Force Awakens won't be available on Netflix in the United States is because Disney has a deal that runs through the end of 2015 that gives all their movies to Starz exclusively. The Force Awakens is the last movie in that deal before Netflix begins a new deal with Disney in 2016. That's some unfortunate timing for Netflix, and some bad news for Star Wars fans, though most of them will buy it as soon as it hits Blu-Ray anyway, so it probably won't be that big of a deal.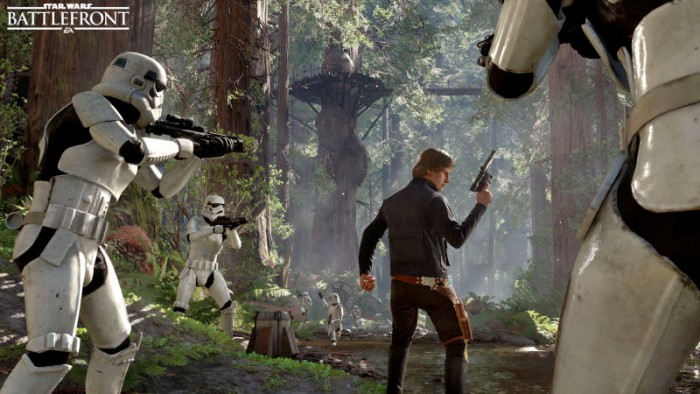 Star Wars Battlefront just gained some more playable heroes and villains with EA announcing that Han Solo, Princess Leia and Emperor Palpatine will be part of the action. Each of them has their own special attributes and powers that will help either the Rebels or the Empire pursue victory, and you can find out about them over at Kotaku.
BB-8 reacts to the final Star Wars trailer in quite the adorable way.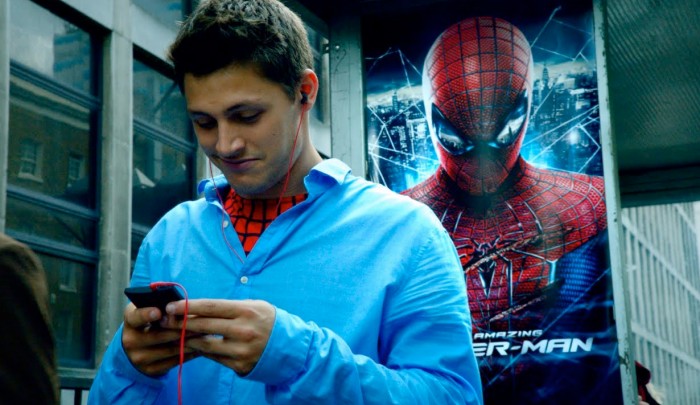 Pip Andersen is a young actor with a role in Star Wars: The Force Awakens, but fans haven't been able to figure out who he plays in the movie. But MakingStarWars.net recently got the scoop, and it appears he'll have ties to one of our new heroes in the movie. If you want details on Andersen's character, check out their full story on the matter, but beware of possible spoilers.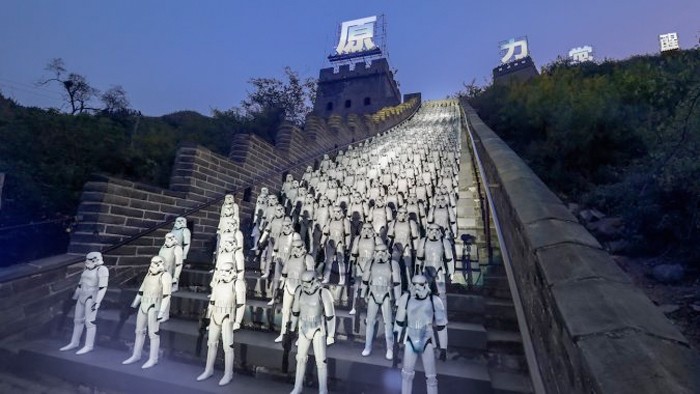 Disney really wants China to care about Star Wars, where the franchise has never had as big of a following as it does in other territories. And in order to help promote The Force Awakens, Disney sent out 500 Stormtroopers to march on the steps that lead up to one of the guard towers on the Great Wall of China. Hundreds of lightsabers and other merchandise were handed out to people in the area as well. Will it be enough to get the excitement to rise in China? [InsideTheMagic]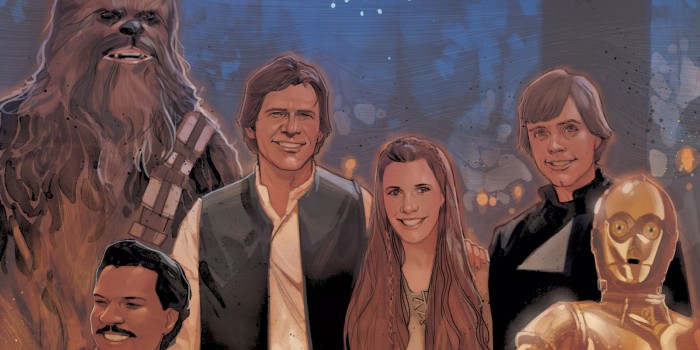 If you haven't had any time to read the new Star Wars comic series Shattered Empire, maybe you'd just like to know about how it ties into The Force Awakens. Thankfully, THR has an article that explains five ways in which the comic series is linked to the new sequel.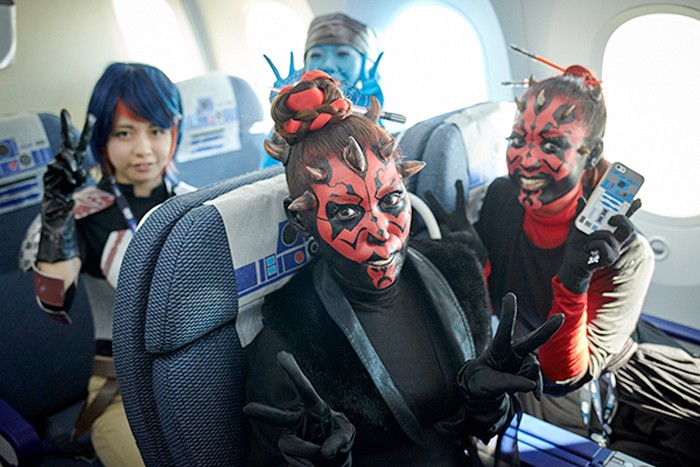 If you happen to be traveling out of Japan, All Nippon Airways (ANA) has some Star Wars themed flights available for your enjoyment. They won't take you to a galaxy far, far away, but they just might serve blue milk if you ask for it. [The Chive]
Finally, above you can see what the final Star Wars: The Force Awakens trailer would be like it were dubbed by Brooklyn natives, thanks to Jimmy Kimmel and his series of episodes taped in New York City last week.
That's all for this edition of Star Wars Bits. Come back for more soon.