Bryan Fuller And Amblin TV Reviving Steven Spielberg's 'Amazing Stories' Anthology Series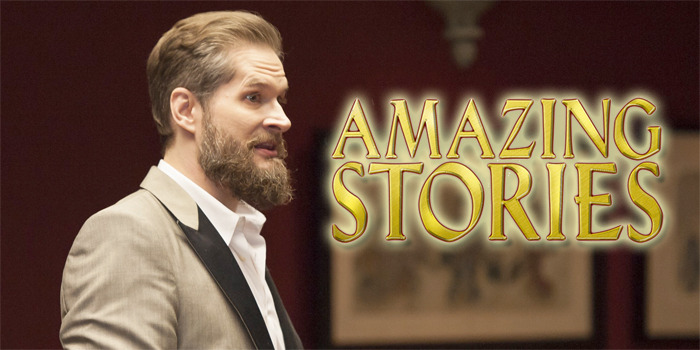 At a time when anthology television series such as American Horror Story, True Detective and Fargo are such hits, it's surprising that shows like The Twilight Zone and The Outer Limits aren't getting the remake treatment. However, that might change if NBC finds success bringing a familiar anthology series of that kind back to the small screen.
Amazing Stories was an hour-long weekly sci-fi and fantasy anthology series created and executive produced by Steven Spielberg that told stories of the fantastic, strange and supernatural, and now Pushing Daisies and Hannibal creator and executive producer Bryan Fuller and Amblin TV will bring the show to NBC for a revival.
EW reports the Amazing Stories remake is currently in development at NBC with Fuller writing a pilot for the project in addition to executive producing alongside Under the Dome and Extant executive producers Justin Falvey and Darryl Frank. And if it's anything like the original series, this should be something fascinating to watch.
Amazing Stories began airing in 1985, running only for two seasons. But in its short time on the air, the show earned 12 Emmy nominations and won five awards. A big part of the success of the series can be attributed to the incredible filmmaking talent that came on board to direct episodes, which will hopefully be a staple of this new iteration.
Directors who were at the helm of episodes of Amazing Stories include Martin Scorsese (GoodFellas), Joe Dante (Gremlins), Clint Eastwood (American Sniper), Robert Zemeckis (Back to the Future), Irvin Kershner (The Empire Strikes Back), Ken Kwapis (The Office), Tobe Hooper (The Texas Chainsaw Massacre) and even Burt Reynolds.
Steven Spielberg (who isn't involved in the remake) also directed an Emmy-winning episode called The Mission:
Many of those directors hadn't yet become icons when taking on an episode of the series, though they did have established careers at that point in the 80s. So hopefully NBC and Bryan Fuller can line up some talented filmmakers from the next generation of iconic filmmakers. It would be great to see the likes of Guillermo del Toro, Edgar Wright, Alfonso Cuaron, Duncan Jones, Rian Johnson, J.J. Abrams and other filmmakers tackle episodes here and there, but the network may not necessarily be able to afford them.
For a bit of nostalgia, here's the original opening credits for Amazing Stories:
And for those curious, that opening theme is composed by the legendary John Williams. Can they get him to compose a new version, or will another composer be given the gig? We'll have to wait and see.
Anyone out there interested in this Amazing Stories remake?