More 'Wonder Woman' Rumors: Is It A 'Batman V Superman' Prequel?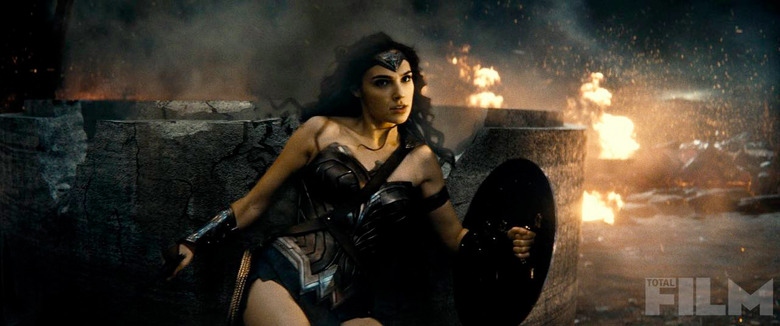 Wonder Woman is just a few weeks away from the start of production, and there still isn't a whole lot we know about it. It's confirmed that Gal Gadot and Chris Pine will star for director Patty Jenkins, and that it's opening on June 23, 2017. Warner Bros. has not said a peep about when it will take place, or what it will be about, or how it'll fit in with the rest of the DCEU.
So until they do, the rumor mill churns on. Today's big, juicy, take-it-with-a-fistful-of-salt report purports to answer all of those questions, plus questions you might not even have gotten to yet, like "Will the invisible jet make an appearance?" and "Which other big DC character is making a cameo?" 
JoBlo is the source of the latest Wonder Woman rumors. They go pretty deep into the rumors, so we've just compiled some of the main points below. Two things to keep in mind: Everything below is based on their report, and should be taken as rumor not fact, and some spoilers may lie ahead. Got it? Okay, good. Let's get to it.
When does Wonder Woman take place?
Some of it in World War I, more of it in the modern day. Although by "modern day," we mean "a few months before Batman v Superman: Dawn of Justice." Yep, it's a prequel.
What is Wonder Woman about? 
Steve Trevor and Wonder Woman trying to stop Circe and Ares from starting World War III in the present day.
What is Wonder Woman like?
Super mythological – "the Thor of the DCCU," apparently. Expect Ares commanding an army of winged demons, Circe turning into a Chimera-like monster, stuff like that.
Will the invisible jet be in the movie?
Yes, but not a ton. One of its jobs will be getting Wonder Woman and Steve Trevor off Paradise Island.
How about another Justice Leaguer?
Yep. Batman will cameo at some point in the middle of the movie, and then meet her after the finale. That's when they establish the relationship that brings her into Batman v Superman: Dawn of Justice.
That's the quick and dirty rundown. For much, much more, including info on what the villains' plans are, what their costumes will look like, what Batman's doing, and when we'll see the invisible jet, click over to JoBlo.