'Harry Potter And The Cursed Child' Plot Details Finally Revealed: It's The Eighth Harry Potter Story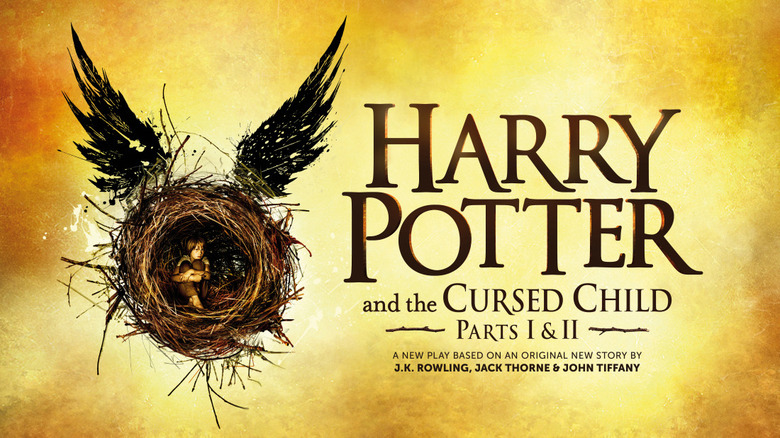 Yesterday brought us our first glimpse at official Harry Potter and the Cursed Child artwork, and today we finally have full details on the upcoming play. Put simply, it's "the eighth story, nineteen years later" — it picks up with Harry well into adulthood. Get all the Harry Potter and the Cursed Child plot details, plus ticketing info, after the jump.
Here is the official synopsis for Harry Potter and the Cursed Child:
It was always difficult being Harry Potter and it isn't much easier now that he is an overworked employee of the Ministry of Magic, a husband and father of three school-age children.
While Harry grapples with a past that refuses to stay where it belongs, his youngest son Albus must struggle with the weight of a family legacy he never wanted. As past and present fuse ominously, both father and son learn the uncomfortable truth: sometimes, darkness comes from unexpected places.
That strongly suggests Harry's son is the Cursed Child, which in retrospect makes perfect sense. I mean, the kid's name is Albus Severus. How much more cursed can you get?
Previews for Harry Potter and the Cursed Child will run June 7 - July 29, 2016, with tickets going on sale online only on October 28 at 11 AM GMT for those who've registered online for priority booking. (If you haven't signed up yet, you have one day left to do so here.) Tickets will then be made available to the general public, again online only, on October 30 at 11 AM GMT. Four preview performances are additionally planned for May, but no additional details are available on those yet.
As previously reported, Harry Potter and the Cursed Child has been broken up into two parts because the story, which Rowling created with John Tiffany and Jack Thorne, was apparently just too "epic" to fit into a single show. (Hey, it worked for the Deathly Hallows movie.) Tiffany wrote the script and Thorne is directing. Sonia Friedman and Colin Callendar are producing, and Imogen Heap provides the music.