'Jessica Jones' Trailer: Marvel's Newest Superhero Lands In Hell's Kitchen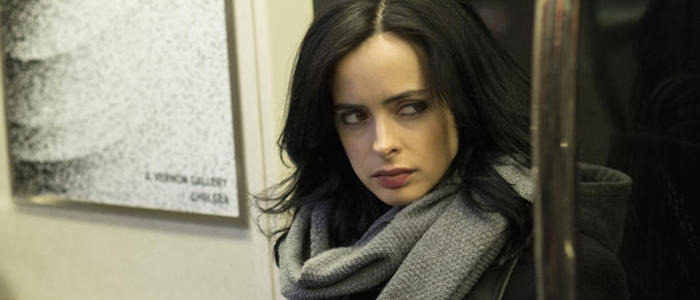 After weeks of teasers, Netflix has finally unveiled the first full-length Jessica Jones trailer. Krysten Ritter stars as the titular Jessica Jones, still reeling from the tragic end of her superhero career. She rebuilds herself as a private investigator in Hell's Kitchen, New York, but finds her new life shattered by the return of an evil figure from her past. Watch the Jessica Jones trailer after the jump.
The music used, once again, is "Thousand Eyes" by Of Monsters and Men.
#JessicaJones, I see you.https://t.co/ZthFp8OnkV

— Jessica Jones (@JessicaJones) October 23, 2015
Anyone who's ever been to Manhattan can tell you Hell's Kitchen is just a few minutes' walk from Midtown, where Avengers Tower stands proud. But Marvel's Netflix series feel a world away from their big-budget blockbusters. Daredevil was praised for its dark, grown-up tone and its complicated villain (something that the movies struggle with quite a bit), and Jessica Jones seems to be going in a similar direction.
The big bad of Jessica Jones is Kilgrave, played by David Tennant. (In the comics he's known as the Purple Man because he's literally a purple man. He does not appear to be grape-hued here.) We get barely a glimpse of him in the Jessica Jones trailer, but we see enough of the damage he's done — including on our Jessica Jones herself — to tell he's a force to be reckoned with.
Fortunately, it also appears she's got some good people on her side. Jessica Jones features the first appearance of Luke Cage (Mike Colter), who'll get to headline his own Netflix series next year. But in the trailer, his main job is being Jessica's sympathetic bartender buddy.
Also starring are Rachael Taylor as Jessica's BFF Trish Walker (a.k.a. Hellcat in the comics) and Carrie-Anne Moss as Jeryn Hogarth, whom comics fans know has connections to Danny Rand a.k.a. Iron Fist — who's also getting a Netflix series in the not-too-distant future. Rosario Dawson will reprise her Daredevil role as Claire Temple.
All 13 episodes of Jessica Jones will drop on Netflix on Friday, November 20. Perfect Thanksgiving binge-watching, if you can wait that long.