'Harry Potter And The Cursed Child' Reveals First Official Artwork

Potterheads have been clamoring for more details on Harry Potter and the Cursed Child, the two-part play coming to London's West End next year. But J.K. Rowling didn't get where she was by giving up secrets so readily. She's playing the long, slow game, and today she's got fans talking again with the reveal of the first official Harry Potter and the Cursed Child artwork. See it after the jump. 
The Harry Potter and the Cursed Child artwork was unveiled on Pottermore.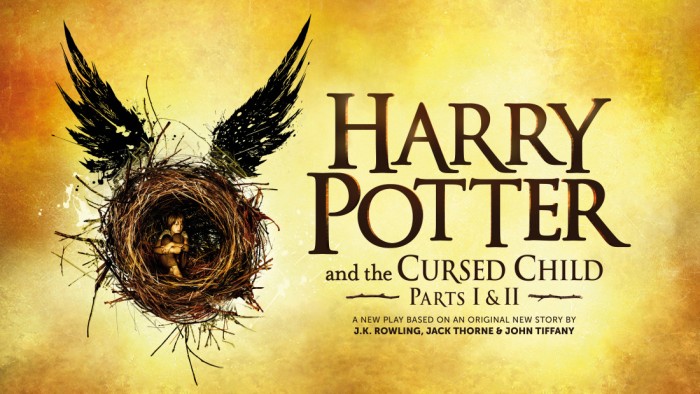 Or see it in action below:
It would seem we finally have our first look at the Cursed Child... and we still have no idea who he is. (Or she? That could conceivably be a girl.) The Golden Snitch-like design is an interesting detail, though. Especially given that the Resurrection Stone was hidden in a Golden Snitch in Harry Potter and the Deathly Hallows. Could this kid have something to do with that item? Or is it just a reference to Quidditch?
Rowling has previously hinted that the Cursed Child is someone we're familiar with, but ruled out Voldemort as the titular character.
Good theory, because I do think Tom was cursed in the way that you suggest, but no, he's not the child. https://t.co/AdX85WIqiX

— J.K. Rowling (@jk_rowling) August 21, 2015
One popular guess is that the Cursed Child is actually Harry himself. Fanning the flames of that particular theory is the fact that the earliest reports about the play actually described it as "the previously untold story of Harry Potter's early years as an orphan and outcast." However, Rowling has since emphasized repeatedly that Harry Potter and the Cursed Child is not a prequel.
She apparently does consider Fantastic Beasts a prequel, even though it's not about Harry Potter, so this doesn't seem to be one of those instances where a creator is just being really nitpicky about the wording. That would seem to suggest Cursed Child isn't set anywhere in the past, but sometime after the events of the novels. Maybe it's one of Harry's kids? Or Ron and Hermione's? How about that Teddy Lupin guy?
In any case, fans should have plenty of time to get to know the Cursed Child when the play hits next year. Rowling confirmed last month that the play would be revealed in two parts, with both parts playing on consecutive days or even on the same day. According to the Cursed Child team, the story was just too "epic" to fit into a single show.
Jack Thorne wrote Harry Potter and the Cursed Child from an original story he created with Rowling and John Tiffany, the latter of whom is directing. While not a musical, Cursed Child will have music by Imogen Heap. Sonia Friedman and Colin Callendar are producing.
Those dying for ticket details should head over to the official site. Joining the mailing list gets you priority access to tickets. The deadline to register is October 24 at 11:45 PM British time (for Americans, that's 6:45 PM Eastern and 3:45 PM Pacific).