Nick Kroll And John Mulaney Reviving 'Kroll Show' Sketch 'Oh, Hello' On Stage In NYC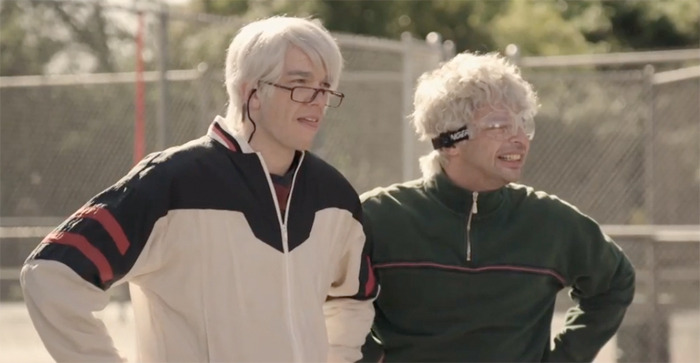 When Kroll Show was still on Comedy Central, one of the best recurring segments was a little prank show called Too Much Tuna, featuring Gil Faizon (Nick Kroll) and George St. Geegland (John Mulaney) – the stars of Oh, Hello, another recurring segment on the sketch comedy series. And now these two charismatic Upper West Side artists are bringing their talents Off Broadway.
Mulaney and Kroll have just announced a new Oh, Hello stage show in the form of a new play written by Faizon and St. Geegland called We're Us, You're You, Let's Talk. This sounds like it could be one of the greatest events of our time.
For those who may not be familiar with Gil Faizon and George St. Geegland, here you go:
Here's them pulling another Too Much Tuna prank as well:
The show will be playing from December 1st – December 20th at the Cherry Lane Theatre, which is supposedly near the Christopher Street PATH station. I wouldn't know, because I've only been to New York City once. However, I'm strongly considering driving 10 hours to go see this show. That's how much I love these characters.
If you're curious as to what you can expect, here's a fine description of the show from the official website:
Fresh off the success of their hit prank show "Too Much Tuna," these two Alan Alda-obsessed Upper West Side bachelors are returning to their roots in New York theatre. Having wowed audiences with past theatrical works like "True Upper West" and the "Annie Get Your Gun" inspired "Bernie Goetz You Gun: A Non Musical Drama," Faizon and St. Geegland are back for a total victory lap and to premiere their new play "We're Us, You're You, Let's Talk." Tickets are a lot of money. Join us, won't you? And say Oh Hello... all over again.
George and Gil have parted ways with a number of numbskull directors but are open to a real doormat if anyone wants to get walked all over. "We're very important artists and this show's relevance to the American theater can't be overstated," said Faizon and St. Geegland. "We are, however, interested in getting a cool sponsor like Dr. Brown's Celray Soda".
GIL FAIZON (star) is a Tony Award viewing actor and a SAG AFTRA must leave. Faizon currently works as a stand in model for mashed potatoes and other creamed foods. So like when they're photographing mashed potatoes Gil lies there so they can get the lighting right. His Bar Mitzvah theme was the color brown.
GEORGE ST. GEEGLAND (star) was born in Newark, NJ to verbally abusive parents sometime in the early mid 1940s. In 1971 he published his first novel Rifkin's Dilemma, a real 70's novel about masturbation and such. It has aged terribly. St Geegland taught creative writing for 12 years at SUNY Yonkers – Go Zebras! – until he was fired for stuff that is in sealed documents. Along with Gil Faizon he is the co-author and co-star of several plays as well as the hit television show "Too Much Tuna" as seen on Comedy Central's "Kroll Show." Spalding Gray personally disliked him and he has chapped hands.
NICK KROLL and JOHN MULANEY are American writers and comedians with many credits. They are thrilled to be working with theater legends Gil Faizon and George St Geegland. This is their first Off Broadway production.
I love that this project is treating Faizon and St. Geegland as real people. That means we can expect Mulaney and Kroll to be in character the entire time, not unlike in this hour-long chat with 92YPlus:
This show is bound to be absolutely hilarious, and I would love to see what kind of play Faizon and St. Geegland have cooked up. Although by the sound of it, this could very well be a strongly improvised project that involves crowd participation and some Q&A with Faizon and St. Geegland. Plus, there's this warning from Kroll:
And just a warning. If you come to https://t.co/83PlGA044i in NYC you may get Tuna'd.

— nick kroll (@nickkroll) October 22, 2015
There's nothing I would love more than to be tuna'd by Gil Faizon and George St. Geegland. If you want tickets, which really are pretty pricey, you can get them right here, but they're selling very quickly, so you better act fast.