'Pride And Prejudice And Zombies' Trailer: Jane Austen Gets Zombie-Fied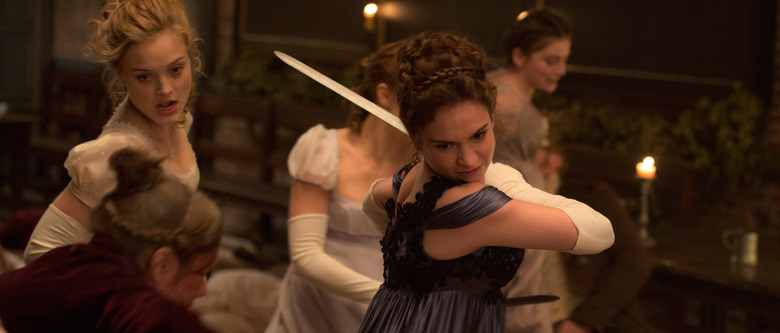 There have been many attempts to modernize Jane Austen over the years, perhaps the most successful of which is Amy Heckerling's Clueless. But Pride and Prejudice and Zombies takes a different approach. Instead of moving the action to the present day, it just unleashes an ever-trendy horde of zombies into Regency-era England.
Lily James and Sam Riley play Elizabeth Bennet and Mr. Darcy, whose familiar struggles with romance and social class are further complicated by the presence of the "sorry stricken." Bella Heathcote plays Jane, Douglas Booth is Bingley, and Jack Huston, Matt Smith, Suki Waterhouse, Lena Headey, and Charles Dance round out the cast. Watch the new Pride and Prejudice and Zombies trailer after the jump.
Watch the new Pride and Prejudice and Zombies trailer below via YouTube.
The premise of Pride and Prejudice and Zombies is undeniably goofy, and the trailer seems to take it just seriously enough. It's less cheesy than the last one was, but not so grim and gritty that it tips over into being unintentionally hilarious. Which makes sense, given that Seth Grahame-Smith, who wrote the source material, said at Comic-Con that the best way to approach the material would be the play it straight. "Burr totally understands the tone of this absolutely ridiculous, stupid film, and that the only way to go at it is without ever once winking at the audience," he said.
Pride and Prejudice and Zombies also seems to be trying to play up the female empowerment angle. "It's pretty great to be in a film where the five Bennet sisters are sort of the strongest characters in it and are completely able to take care of themselves," James told EW. "Really, none of them needs a man." Which could be fun, but wasn't the whole point of Austen's original work that the Bennet sisters did need a man, due to the restrictions of the society in which they lived?Pride and Prejudice and Zombies opens February 5, 2016.