Vincent D'Onofrio Will Be The Wizard Of Oz In NBC's 'Emerald City'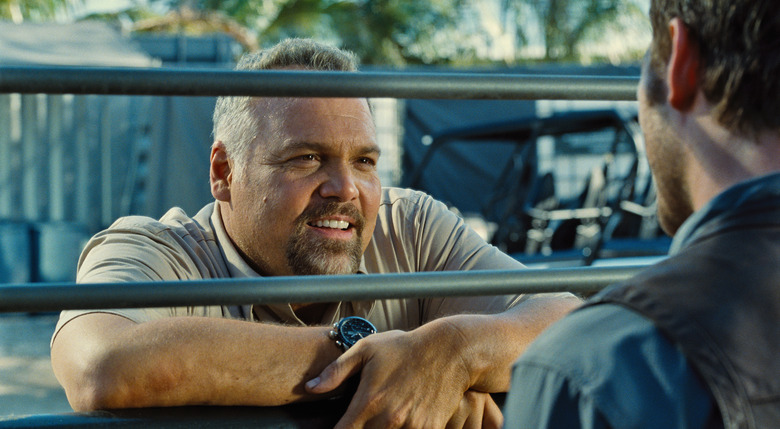 Since things worked out so well for Vincent D'Onofrio the last time he tried to rule a city, he'll be doing it again at NBC. The Daredevil star will play the Wizard of Oz in Emerald City, a "dark and modern" reimagining of L. Frank Baum's books. Read all about the Vincent DOnofrio Wizard of Oz news after the jump. 
Deadline broke the Vincent DOnofrio Wizard of Oz news, and describes his character as follows:
The Wizard of Oz is the enigmatic leader of Emerald City. A man of science in a world of magic, he rules through inspiration, fear and a tenuous accord with the grand witches.
Although Emerald City has yet to air a single episode, it's already been through its share of ups and downs. NBC first gave the drama a straight-to-series order in January 2014 but then pulled the plug later that year. Producer Universal Television reworked the concept, shook up the staff, and brought it back to NBC which gave it a new 10-episode straight-to-series order this past April.
Here's how NBC describes the series:
In the blink of a tornado's eye, 20-year-old Dorothy Gale and her K9 police dog are transported to another world, one far removed from our own — a mystical land of competing kingdoms, lethal warriors, dark magic and a bloody battle for supremacy. This is the fabled Land of Oz in a way you've never seen before, where wicked witches don't stay dead for long and a young girl becomes a headstrong warrior who holds the fate of kingdoms in her hands.
Tarsem Singh, who worked with D'Onofrio in The Cell, is directing all ten episodes. (So if nothing else, we should be in for some sumptuous visuals.) David Schulner and Shaun Cassidy are executive producers. Besides D'Onofrio, Emerald City stars Adria Arjona as Dorothy, Ana Ularu as the Wicked Witch of the West, Oliver Jackson-Cohen as Lucas, Gerran Howell as Jack, Jordan Loughran as Tip, and Mido Hamada as Eamonn.
D'Onofrio has had a big year. He made a big splash as Wilson Fisk a.k.a. Kingpin in Marvel / Netflix's Daredevil, and then tackled another villain role in this summer's #1 hit Jurassic World. He just wrapped Antoine Fuqua's Magnificent Seven remake, in which he does not play a villain... and will next move on to CHiPS, in which he'll play yet another bad guy.
And if you're wondering why D'Onofrio seems to play so many awful dudes, well, just check out this scene from his last collaboration with Singh.