Edgar Wright's Debut Film 'A Fistful Of Fingers' Gets U.S. Premiere And Paul Shipper Posters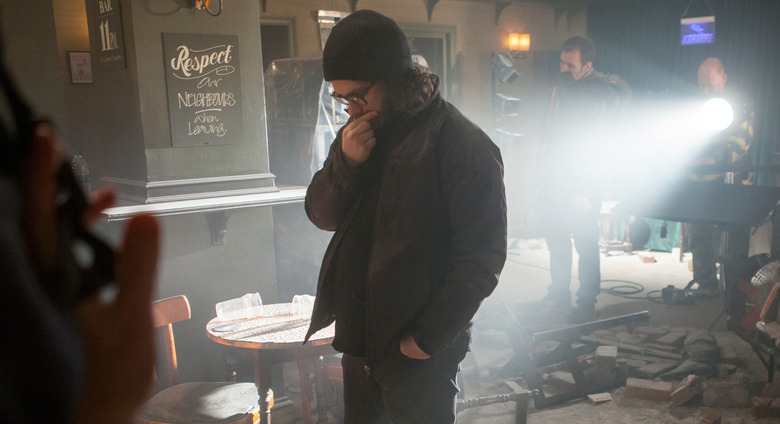 If you're reading /Film, we're guessing there's a pretty good chance you've watched Scott Pilgrim vs. The World and the Cornetto trilogy. Maybe you've even seen Spaced, the British TV series the first assembled the Edgar Wright / Simon Pegg / Nick Frost dream team. But there's a good chance even Wright's biggest fans haven't seen his debut feature, A Fistful of Fingers.
Well, now's your chance. Next month marks the 20th anniversary of A Fistful of Fingers, and to celebrate that fact it's playing in London and — for the first time ever — Los Angeles. Wright's even got an amazing Paul Shipper poster to go with that re-release. Take a look after the jump.
Wright describes A Fistful of Fingers as "my debut 16mm teen western that I made at the tender age of 20 years old" on his website, where he announced the 20th anniversary plans. He adds, "I'm not going to say it's good as Citizen Kane but it is a hell of a lot sillier." The poster on the left is by Shipper.
A Fistful of Fingers will return to the Prince Charles Cinema on Tuesday, November 24, 20 years to the day after it first debuted in the exact same theater. "At the time I was pretty broke and could barely afford my travel card to get in," recalls Wright. How things change. You can find more details on the Prince Charles Cinema website.
Arguably even more exciting (at least for this American fan) is the news that A Fistful of Fingers will make its very long overdue U.S. premiere that same week, playing at the Cinefamily in Los Angeles on Saturday, November 21 at midnight. The site describes it as "the greatest Western ever made (in Somerset)," and while there can't possibly be much competition for that title it's better than being the worst Western ever made (in Somerset), right?
Here's what else the website has to say about Wright's debut feature:
A wildly funny, stupefyingly silly Spaghetti Western spoof, A Fistful of Fingers is a jaw-dropping gag-a-minute mashup of Sergio Leone, Monty Python and the Zucker Brothers, hilariously fueled by its young cast & crew's can't miss enthusiasm and teen spirit attitude. It's a one-of-a-kind parody packed wall-to-wall with irreverent humor, dusty charm and pop culture obsession, every frame filled with Wright's unmistakable & completely contagious love for movie-making.
Sounds like an Edgar Wright movie, all right. Get more details on the Cinefamily website. And to hold you over until you can actually watch it, here's the opening scene to A Fistful of Fingers: