Nike Announces 'Back To The Future' Sneakers (1985 And 2015 Versions)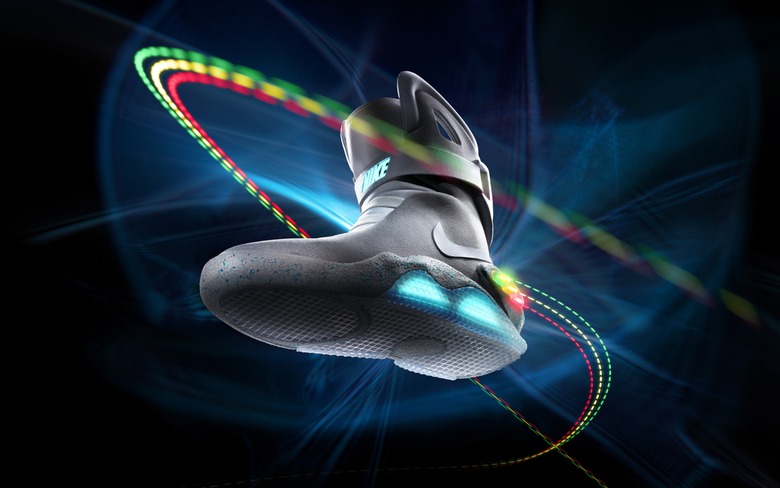 While we were busy whining on Twitter about the sad lack of hoverboards and flying cars in the real 2015, Tinker Hatfield was hard at work making sure at least one of Back to the Future Part II's predictions came true. The shoe designer promised last year that self-tying Nike Mags would become a reality in 2015, and as of today — Back to the Future Day, in case you some how hadn't heard — he's made good on his word.
See Michael J. Fox with the very first pair of Back to the Future sneakers with self tying laces after the jump. Or, if your tastes run a little more retro, find out where you can get 1985 Nike Bruins like the ones Marty McFly sports before he upgrades to the Mags.
Update from Editor Peter Sciretta: After the jump you can now watch Michael J. Fox try on Nike's self-lacing sneakers for the first time, and then later in the day, demonstrate them on Jimmy Kimmel Live.
Angie's original story from October 21st 2015 follows:
Speculation that today might bring an announcement about Back to the Future sneakers began when Nike tweeted the following at Fox yesterday.
.@realmikefox see you tomorrow.

— Nike (@Nike) October 21, 2015
Today, Fox revealed what that cryptic message had been about. (Scroll past the tweet for a full transcription of the note via ScreenCrush.)
The letter I received from Tinker today. Thanks @Nike pic.twitter.com/UIolXrkUVC

— Michael J. Fox (@realmikefox) October 21, 2015
Here is a transcript of the letter so you don't hurt your eyes:
Hey Michael,Almost thirty years ago, we embarked on a journey to create a glimpse into "the future." Although the project started as science fiction, we're now proud to turn that fiction into fact. As the first, most celebrated wearing of the Nike Air Mag, we wanted you to be the first to receive a living pair. "I meant Nike Mag" (I must have "air" on the brain)!What is so special about the Nike Air Mag is its impact continues to resonate. We may never know its final legacy, but we continue to work on projects that carry and progress some of its principles.As you well know, innovation never stops at Nike so we're excited about what lies ahead for this idea. We know if you put your mind to it, you can accomplish anything.In addition to your personal pair, we're creating more pairs for support in aid of the Michael J. Fox foundation in 2016. We hope that the combined effort will raise even more than the $9.4 million contributed in 2011 and to eliminating in some way Parkinson's Disease in our lifetime!Your Friend, TinkerP.S. If my calculations are correct... your pair should be with you shortly.
Tinker's calculations were indeed correct, and here's Fox with the very first pair of genuine self-tying Nike Mag sneakers.
This is real. This is today. Coming spring 2016. cc: @RealMikeFox @Nike pic.twitter.com/KPswXNojvA

— michaeljfox.org (@MichaelJFoxOrg) October 21, 2015
Hatfield's note references the last Nike Mags release in 2011. A limited run of 1,500 pairs were auctioned off to raise money for the Michael J. Fox Foundation. However, those weren't exactly the shoes fans had been dreaming of since 1989. While they looked just like the Mags from the movie, they didn't actually feature self-tying technology. The new ones, which do, are expected to be unveiled by Fox during his appearance on Jimmy Kimmel Live! tonight.
Sales of the self-tying Nike Mag will begin on an unspecified date in spring 2016, as stated above. But if you simply can't wait that long, you can go ahead and try to invent your own power laces with the help of littleBits Electronics.
UPDATE: Nike has commented on the shoe's availability:
The 2015 Nike Mag is a limited edition release. It will only be available via auction, with all proceeds going to the Michael J. Fox Foundation for Parkinson's Research. The specific details on the auctions will be posted to Nike News and via Twitter @Nike in spring 2016.

Moving on for those who don't mind tying their own shoelaces, Nike has also announced the release of the NikeLab Bruin Leather, an upgraded version of the kicks Marty wears in 1985. What do we mean by "upgraded"? Take it away, Nike website copywriter person:
The new sneaker mimics an iteration of the original Bruin, with full-grain leather upper and cupsoles instead of the archetype suede upper and autoclave outsole. Today, the exclusive silhouette provided by these updates is accented by a bold red swoosh, which is particularly prominent due to the absence of heel tab and tongue markings.
Feast your eyes on these pristine beauties below:
The Bruin was first introduced in 1972 and marked the birth of Nike Basketball. And while there's a skateboarding version currently available, the original style Bruin has been elusive. So this is a pretty big deal for sneakerheads and BTTF obsessives, even if they don't feature the same "futuristic" technology that has fans drooling over the Mag. The Bruin Leather will be available at NikeLab destinations worldwide. Keep an eye on the official Twitter account for details.
And now, let's bring it all back by remembering the reason for the season. Here's that timeless clip of Fox discovering power laces and acting all casual about it, as if people in his 2015 haven't spent the past 26 years fantasizing about it and trying to dream up the technology to make it happen.