'Jane Got A Gun' Trailer: Natalie Portman's Troubled Western Is Finally Riding Into Theaters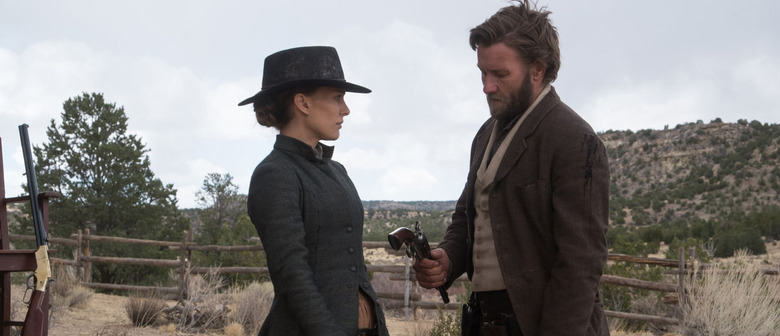 If you've heard of Jane Got a Gun at all, it was probably in the context of the film's many, many behind-the-scenes troubles. Original director Lynne Ramsay dropped out at the last second, which in turn set off a bunch of casting shakeups. The project then rallied under new director in Gavin O'Connor and finished shooting in 2013, only to get shelved due to Relativity's financial troubles.
But it's finally coming to theaters in France next month, and so the first Jane Got a Gun trailer has revealed itself for our judgment. Natalie Portman produced and stars as the titular Jane, whose husband (Noah Emmerich) turns up half-dead after a run-in with an outlaw gang (led by Ewan McGregor). In desperation, she turns to an old flame (Joel Edgerton) for help protecting her farm and her family. Watch the Jane Got a Gun trailer after the jump. 
Mars Distribution posted the Jane Got a Gun trailer.
For all the messiness behind the scenes, Jane Got a Gun doesn't look so bad. It might even look kind of good. That cast is stellar, even if it had to go through several changes to get here.* Jane is Portman's first lead role since 2011's No Strings Attached and Your Highness, and it's great to see her back in fine form. Edgerton mixes up his recent streak of a**hole roles as a frowny good guy, and McGregor is nearly unrecognizable with his all-American drawl.
Jane Got a Gun premieres November 25 in France and February 2016 in the U.S.
* To recap: Jane was originally going to star Michael Fassbender as the hero and Joel Edgerton as the villain, and then Edgerton as the hero and Jude Law as the villain. Then Ramsay dropped out, so Law did too, and was replaced by Bradley Cooper and then, finally, McGregor. Portman was on board the whole time. Told you it was complicated.