'Joy' Trailer: Jennifer Lawrence Shines In Her Latest Team-Up With David O. Russell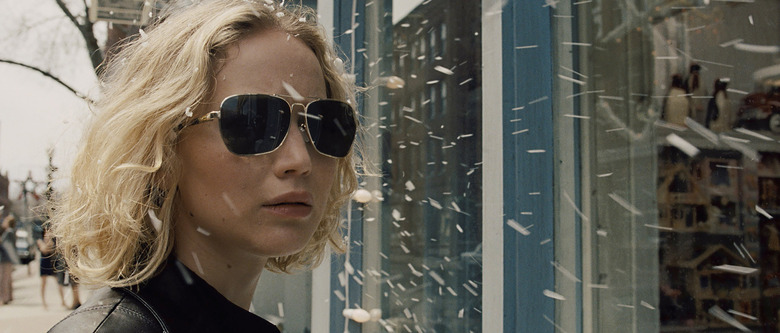 Jennifer Lawrence / David O. Russell team-ups have become a recent staple of the awards movie season, and that's true again this year. 20th Century Fox has just released the first full-length trailer for Joy, which has Lawrence as a fierce wife and mother who overcomes adversity to start her own business empire. Robert De Niro plays her dad, and Édgar Ramírez her husband. Bradley Cooper also stars, because of course he does.
Watch the Joy trailer after the jump.
20th Century Fox dropped the Joy trailer on YouTube for us to find and post right here. Watch it below.
Russell and screenwriter Annie Mumolo (Bridesmaids) have given Lawrence a meaty role to sink her teeth into, and it looks like she really tears into it. Most actors would be rightfully anxious about exiting two long-running, lucrative franchises (The Hunger Games and X-Men) at the same time, but something tells me Lawrence will be just fine. My only quibble with her performance in Joy — or rather, what we can see of it in the trailer — is the same quibble I had with her work in Silver Linings Playbook and American Hustle: namely, that she looks too young for the part. That's not a knock on Lawrence, but it's a minor distraction all the same.
Joy arrives December 25 in theaters.
JOY is the wild story of a family across four generations centered on the girl who becomes the woman who founds a business dynasty and becomes a matriarch in her own right. Betrayal, treachery, the loss of innocence and the scars of love, pave the road in this intense emotional and human comedy about becoming a true boss of family and enterprise facing a world of unforgiving commerce. Allies become adversaries and adversaries become allies, both inside and outside the family, as Joy's inner life and fierce imagination carry her through the storm she faces. Jennifer Lawrence stars, with Robert De Niro, Bradley Cooper, Edgar Ramirez, Isabella Rossellini, Diane Ladd, Virginia Madsen, Elisabeth Röhm and Dascha Polanco. Like David O. Russell's previous films, Joy defies genre to tell a story of family, loyalty, and love.