Check Out Mondo And Hero Complex's Heavy 'Back To The Future' Artwork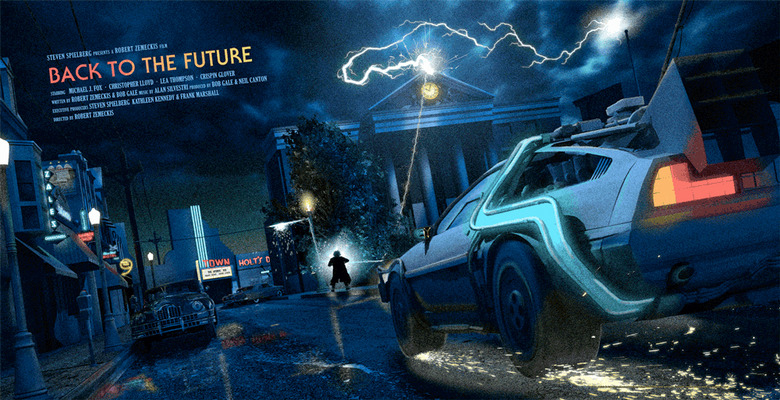 It's officially Back to the Future Day, which means it's time to get your hands on cool gear like Pepsi Perfect and Mondo's collectible vinyl release of the soundtracks to each film in the trilogy. And now there are even more ways to celebrate your love for Back to the Future today.
Mondo has unveiled another Back to the Future Day treat with two new pieces of artwork that will be on sale today. And Hero Complex Gallery has new Back to the Future pieces by Craig Drake paying tribute to the iconic DeLorean time machine, along with a new poster from Ape Meets Girl. Check out the Back to the Future artwork after the jump!
First up, here's a new Mondo piece by James Flames (regular on the left, variant on the right):
Both pieces measure 24" x 36", with the regular having an edition of 325 and costing $45, and the variant having an edition of 175 and costing $65. Here's what the artist had to say about Back to the Future:
If I'm being honest, there are very few movies that I liked as a kid that actually still hold up for me today. Very, very few. But man, the original BACK TO THE FUTURE is definitely one of them. I mean, I know why I liked it back in the mid-80s – like most kids, I was crazy about cars, crazy about 50s music, and Michael J. Fox was like the coolest dude out there. Everybody I knew wanted to grow up to be like him. Dude wailed on guitar! But what I can better appreciate about it now is that it wasn't just cheap kid's fluff – there's real storytelling in there, great characters, cool concepts. And at the heart is this kid and this car, and the amazing adventure they get into together. And that's what I wanted to focus on with my poster. That moment where Marty meets the Delorean...his life, and the entire world, are changed forever in that very instant. And of course, it was fun to play with the two time-eras and split them apart in the background (and then reverse them for the variant edition). So stoked to have gotten to illustrate such a cool movie. Heavy.
And there's Matt Taylor's piece for Back to the Future Part III (regular on the left, variant on the right):
Both pieces measure 36" x 20", with the regular having an edition of 325 and costing $50, and the variant having an edition of 175 and costing $75. Here's Taylor:
As soon as Mondo asked me to do a poster for PART 2, I pretty much immediately knew what I wanted to do for PART 3. I know it has its naysayers, but as it was the only one of the movies I saw in the theatre upon release, it has a special place for me and was the one I really wanted to do a poster for. BTTF has always been this brilliantly weird anachronistic mess of styles with an 80s take on the 50s – and then that filtering back to the 1880s – so I wanted to make something that had hits of all those periods; the 1980s palette, the modern layout and the 50s lifestyle-esque styling of the horses. I don't know if I was completely successful, but it's the poster I'm most happy with, and I'm sure will present some interesting framing questions for those who want to hang all three of my prints for the trilogy – sorry!
And don't forget about Mondo's awesome vinyl soundtrack, which is also available for pre-order today starting at 2 PM Eastern time. Keep in mind that the box set, which comes in a case that looks like the plutonium container, is limited to an edition of 2,000 copies. You'll want to be online right away to snag that one. Otherwise, the singular vinyl releases of each soundtrack are open editions.
But don't go yet, because we've got these other awesome Back to the Future artwork additions from the Hero Complex Gallery, fresh off their debuts at New York Comic-Con. The first one is from Ape Meets Girl, honoring the first film in the trilogy: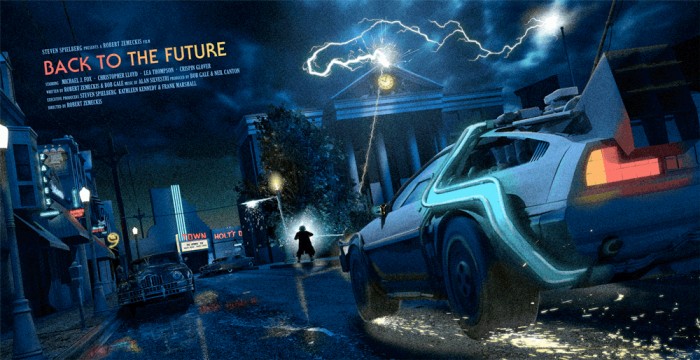 The above piece measures 36" x 18" and is only an edition of 350. It's available for purchase online right now for $55.
And then there are these two pieces by Craig Drake for the different time machines from the first and second film:
The regular versions of each print measures 36" x 24", will cost you $60 and have en edition of 500. Each also has a foil variant with an edition of 250 that will cost you $65, and a special paper color variant where every single print sold is unique, containing a different color scheme that no other print has. That variant will cost you $75, and it's not clear how many there will be. So if you want that version, you'd better act fast.
You can purchase all the Hero Complex Gallery pieces right here. This day may be heavy, but your wallet is going to be light.