Jon Hamm Boards Edgar Wright's 'Baby Driver'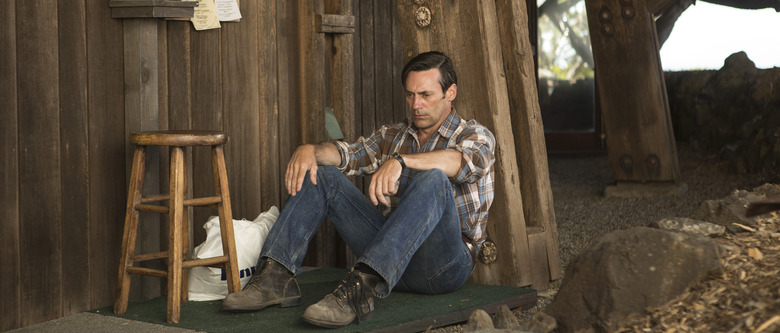 Edgar Wright's next movie may not star Simon Pegg or Nick Frost, but he's managed to assemble a pretty cool cast all the same. Jamie Foxx signed on last month to join Ansel Elgort and Lily James in the crime pic, and now Jon Hamm wants to tag along on the ride as well. Find out which part he's playing after the jump. 
Written as well as directed by Wright, Baby Driver stars Elgort as a young getaway driver who suffers from a condition that leaves a constant ringing in his ears. In order to drown out the noise so he can perform at his best, he blasts his own personal soundtracks at top volume. The project has been described as "the ultimate rock-and-roll car chase film."
Foxx plays a crime boss who forces Elgort to serve as a getaway driver in a doomed heist. When things go awry, Elgort goes on the run. James plays Elgort's love interest, a diner waitress. TheWrap reports Hamm will play one of the villains, who's part of a gang of bank robbers. It's a 180 from his turn in The Town, where he played an FBI agent trying to stop a gang of bank robbers.
Hamm just picked up his first Emmy for his final season as Don Draper on Mad Men. While that remains his most recognizable role, Hamm has built up a solid resume outside the show as well. His recent credits include recurring roles on Netflix's Wet Hot American Summer: The First Day of Camp and The Unbreakable Kimmy Schmidt, an asshole turn in Bridesmaids, a voice part in Minions. He is currently shooting Keeping Up With the Joneses with Zach Galifianakis and director Greg Mottola.
While the cast so far comes from outside Wright's usual coterie of performers, Baby Driver's behind-the-scenes team reunites him with several frequent collaborators, including producers Nira Park, Tim Bevan, and Eric Fellner. Baby Driver shoots later this year for release on March 17, 2017 through Sony.