Chris Rock Confirmed To Host 2016 Oscars [UPDATED]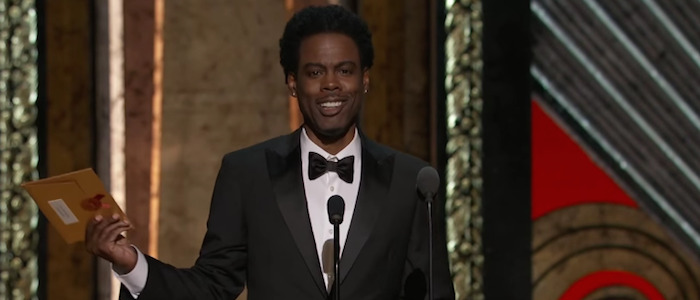 UPDATE: Less than 24 hours after we heard Chris Rock was in talks to host the 2016 Oscars, the Academy has officially confirmed the news. Original story from 10/20/2015 follows.
In the past 24 hours, we've lost our minds over a new Star Wars trailer, cheered on the impending return of Gilmore Girls, and oohed and ahhed over a new teaser for The X-Files. In other words, we've basically been reliving the early 2000s. So it seems rather appropriate that Chris Rock, who first hosted the Academy Awards back in 2005, is now in talks to host the 2016 ceremony.
Learn all about the Chris Rock Oscar host news after the jump. 
While the Academy has yet to announce a host for the 88th Academy Awards, Variety reports Rock is in "serious talks" for the job and that an official statement should be coming shortly. Robot Butt was the first to report Rock would host the 2016 Oscars.
Rock's 2005 hosting job was not universally beloved. Some detractors felt his jokes were too acerbic and political, particularly with regard to racial issues. But a lot of them were smart and sharp, and his perspective might go over much better in 2015 as the call for more diversity in Hollywood has only gotten louder since then. And besides, how often are hosts universally beloved? The best most of these people can hope for is mixed reviews.
Should he close his deal, Rock will follow Neil Patrick Harris in the hosting job. Ellen DeGeneres, Jon Stewart, Seth MacFarlane, Billy Crystal, Hugh Jackman, Steve Martin and Alec Baldwin, and James Franco and Anne Hathaway are the others who've hosted since Rock's last turn on the stage.
Rock recently wrote, directed, and starred in Top Five and directed Amy Schumer's recent HBO standup comedy special. As an actor, he was last seen in a guest-starring role on the Season 2 premiere of Empire. 
Apologies to Rock, who is hilarious, but all this mention of "Rock hosting the Oscars" kind of has me wishing The Rock, a.k.a. Dwayne Johnson, would get to take the Dolby Stage instead. Oh well — there's always next year. Revisit (Chris) Rock's monologue from his 2005 hosting stint below:
And here's his hilariously on-point joke from the 2012 Oscars about the lack of diversity in animation:
The 88th Academy Awards will be held February 28, 2016.