IMAX Announces 'Star Wars: The Force Awakens' Screening Details And Reveals A New Poster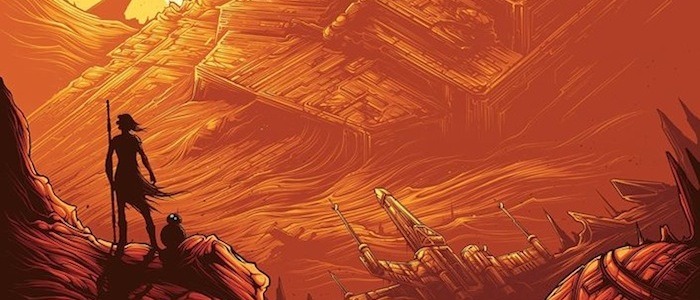 We've known for a long time that Star Wars: The Force Awakens would screen in IMAX and we've known that at least one key action sequence was filmed with 70mm IMAX cameras. Now that tickets for J.J. Abrams' sequel are on sale, specific details about these deluxe format screenings have begun to trickle out. Specifically: where you can watch the film projected in 70mm, where you can watch it in IMAX's 3D With Laser, and what you get for going out of your way to see the movie on the biggest possible screen. Let's just say that, if you play your cards right, you'll walk away with a very cool collectible or two.
Hit the jump for more Star Wars IMAX details.
The news comes to us via the official IMAX blog. Although the post really exists to announce that tickets to screenings of The Force Awakens are on sale now (try not to break the internet this time, guys), there is a wealth of additional information provided for those who want to get very specific about where and how they consume the new Star Wars adventure. You can just go ahead and find a theater near you and pick up some tickets or you can be a little more discerning and check out your other options.
Select IMAX theaters will be projecting The Force Awakens in 70mm film and if you have the chance to see anything projected in this format, you should leap at the chance. Nothing beats it for clarity and it never looks anything short of gorgeous. Here are the IMAX screens that will screening 70mm prints (the links take you to each theater's ticketing page):
Alabama
McWane Center IMAX Dome Theatre – BirminghamIMAX, U.S. Space & Rocket Center – HuntsvilleCaliforniaHackworth IMAX Dome, The Tech Museum – San JoseFloridaMuseum of Discovery & Science AutoNation IMAX – Ft. LauderdaleIMAX Dome, Museum of Science & Industry – TampaIndianaIMAX, Indiana State Museum – IndianapolisIowaBlank IMAX Dome, Science Center of Iowa – Des MoinesMissouriBranson's IMAX, Entertainment Complex – BransonSt. Louis Science Center OMNIMAX Theatre – St. LouisPennsylvaniaTuttleman IMAX, The Franklin Institute– PhiladelphiaInternationalLG IMAX, Darling Harbour – Sydney, Australia
If a 70mm screening isn't happening near you, you can try your luck with theaters utilizing IMAX's new Laser system, which the company claims will provide "audiences with the sharpest, brightest, clearest and most vivid digital images ever, combined with a whole new level of immersive audio." We can't personally speak on behalf of IMAX With Laser, but this is a company known for pushing the boundaries of new and exciting technology. Why not give it a shot with the new Star Wars? Anyway, here is where you can watch The Force Awakens in Laser, which certainly sounds appropriate:
California
TCL Chinese Theatres IMAX – HollywoodAMC Metreon 16 & IMAX – San FranciscoAMC Universal CityWalk Stadium 19 & IMAX – Universal CityMassachusettsSunbrella IMAX 3D Theatre, Jordan's Furniture Reading – ReadingOntarioScotiabank Toronto & IMAX – TorontoVirginiaAirbus IMAX, Stephen F. Udvar-Hazy Center – ChantillyWashingtonBoeing IMAX, Pacific Science Center – SeattleInternationalIMAX, Melbourne Museum – AustraliaEvent Cinemas Queen Street IMAX – New ZealandVOX Cinemas & IMAX – UAECinestar Berlin & IMAX – GermanyFilmpalast AM ZKM IMAX – GermanyEmpire Leicester Square IMAX – United KingdomCineworld Sheffield & IMAX – United Kingdom
But there's more you should know! Get ready to start re-arranging your schedules to take advantage of this little deal:
Star Wars Saturdays: Each Saturday, from December 19 to January 9, at Regal theatres the first 500 guests who experience Star Wars: The Force Awakens in IMAX will receive a collectible ticket featuring unique Star Wars: The Force Awakens art. New art will be revealed each week.
And if you shell out the extra bucks for a 3D screening, you have another souvenir opportunity available to you:
Star Wars Sundays: Each Sunday, from December 20 to January 10, guests who purchase a ticket to see Star Wars: The Force Awakens in IMAX 3D will receive an AMC-exclusive Star Wars print from artist Dan Mumford. A new poster will be revealed each week.
And here's what that first poster will look like: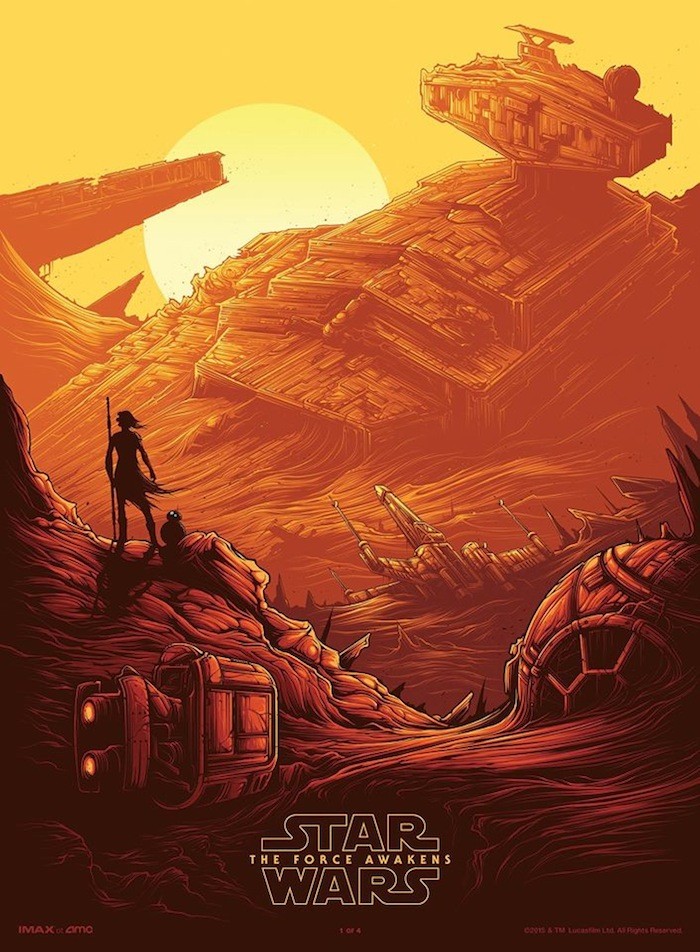 In other words, IMAX is counting on diehard Star Wars fans returning multiple times to collect the various tickets and posters. Oh, no. They're on to us. They know our weaknesses. This is the exact kind of nonsense that fuels us. Damn you, IMAX! We shall shake our fists in your general direction as we get in line to buy your wares and collect your exclusive posters!
Star Wars: The Force Awakens opens on December 18, 2015. Surely you've seen the trailer by now. And surely you've already starting picking the trailer apart frame-by-frame.