Tom Hiddleston's 'I Saw The Light' Delayed To 2016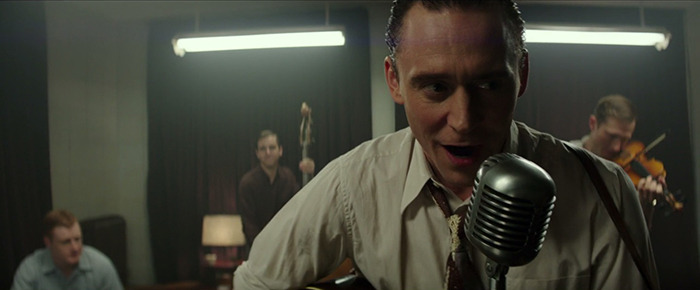 There comes a time in every great actor's life where they must star in a biopic. Awards potential aside, it's just something you gotta do. Actor Tom Hiddleston's (Crimson Peak) performance as country singer Hank Williams initially seemed destined for accolades, but I Saw the Light getting delayed until 2016 makes that an unlikely future. Learn more after the jump.
Based on the biography written by Colin Escott, I Saw the Light highlights Williams' rise to the top in the 1940s and early 1950s. Troubled by addiction and other relationship issues, the singer died at the young age of 29. Written and directed by Marc Abraham, the producer of Children of Men and The Rundown, the film premiered this September at the Toronto International Film Festival. I Saw the Light received mostly negative reviews, but Hiddleston was praised for his turn as Hank Williams.
Originally scheduled to be released next month, I Saw the Light has been pushed to March 25th, 2016, where the film will probably find more box office success. The Wrap reports Sony Classics made the decision for a variety of reasons. For starters, it's a crowded awards season, as is always the case, and the studio didn't want the film to get lost in the shuffle. On top of that, Hiddleston was unavailable for promotion duties because of Kong: Skull Island. The actor is rather busy these days, as he just finished a TV show, The Night Manager, and promoting Crimson Peak. After shooting Kong, he'll return to the role of Loki for Thor: Ragnarok.
Hiddleston is very, very good in I Saw the Light. The problem with the movie isn't his performance, it's the execution. Abraham's film is a bio movie that will inevitably draw comparisons to Walk Hard: The Dewey Cox Story. It's just too familiar of a story, hitting all the beats we expect from this genre.
I SAW THE LIGHT, the story of the legendary country western singer Hank Williams, who in his brief life created one of the greatest bodies of work in American music. The film chronicles his meteoric rise to fame and its ultimately tragic effect on his health and personal life.
Written and directed by Marc Abraham, I SAW THE LIGHT is based on Colin Escott's award-winning biography and stars Tom Hiddleston, Elizabeth Olsen, Bradley Whitford, David Krumholtz and Cherry Jones. RatPac Entertainment's Brett Ratner and Bron Studios' Aaron L. Gilbert produced the film, with G. Marq Roswell and Abraham. James Packer of RatPac Entertainment and Jason Cloth of Creative Wealth Media Finance executive produced. Notable director of photography Dante Spinotti was the cinematographer for the film.