What We Learned From The Final 'Star Wars: The Force Awakens' Poster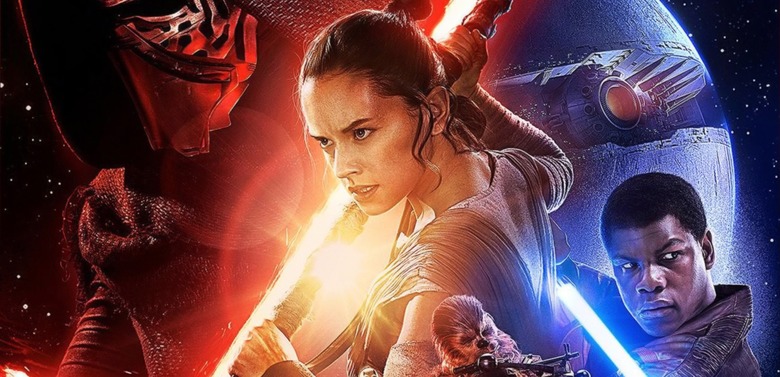 Over the weekend, Lucasfilm and Disney released the final poster for Star Wars: The Force Awakens. The poster had a few reveals, some of which you might have noticed (is that a third Death Star?) and others which were hidden in the fine print and subtext. Before the last trailer gets unleashed later today, let's take a look at what we learned from this new poster.
Here is the Star Wars: The Force Awakens poster. You've probably already seen it by now, and if you're a Star Wars obsessive like me, you may have even spent way too much time staring at it. Warning: possible spoilers (or at the very least character and location information) may follow.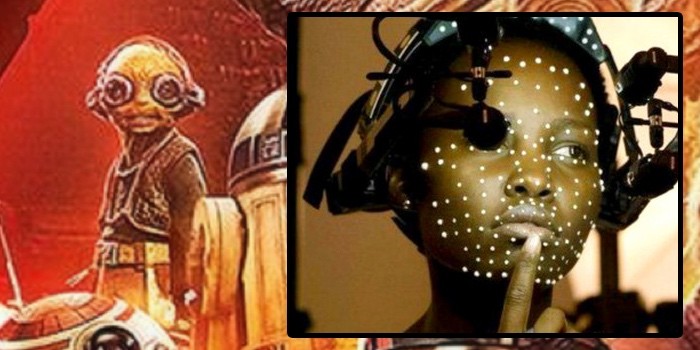 Introducing Maz Kanata
Who is that new alien creature standing to the left of R2-D2? At first I thought it might be Teedo, the small, brutish scavenger that we have seen on top of his semi-mechanical Luggabeast in the photo that was released of Rey getting BB-8 out of netting.
But I can confirm that it is not Teedo, but instead Maz Kanata, the character that Lupita Nyong'o plays in the film. Yes, Nyong'o believed we wouldn't see the character until we saw the film (probably because she plays some kind of spoiler-ific role in the storyline), but it looks like J.J. Abrams and crew decided to include her character on the poster. As you know, Nyong'o performed the role using performance capture. We don't know much about her role in the story, only that she plays a female pirate on Takodana. She owns a castle which has played host to travelers, smugglers and other riffraffs.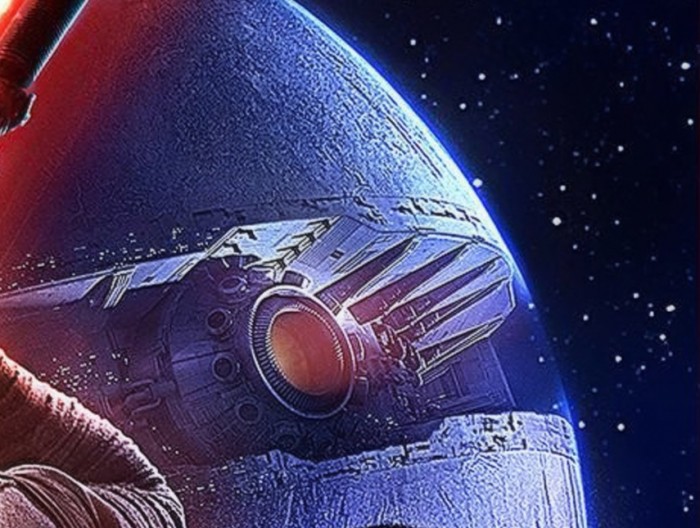 Starkiller Base
I'm not sure why everyone is surprised by the thing that looks like a third Death Star on the poster. Why did everyone assume that a thing called "Starkiller Base" was just a simple military base? The name of the base was accidentally revealed at Comic-Con by Domhnall Gleeson. The base is obviously inspired by the original surname for Skywalker in the first draft of the script for the first Star Wars movie.
According to the official Star Wars databank, Starkiller Base is "an ice planet converted into a stronghold of the First Order and armed with a fiercely destructive new weapon capable of destroying entire star systems." Remember all the snow on the ground when Kylo Ren faces off against Finn in a lightsaber duel?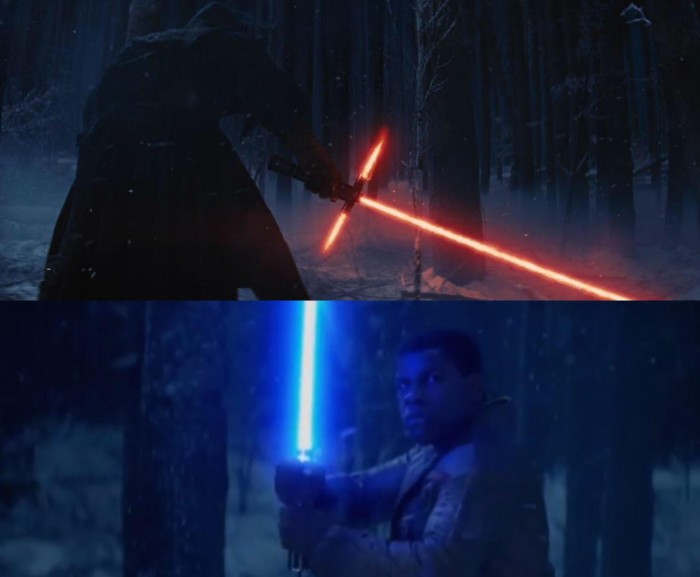 Let's take a moment to think about this. The Death Star could destroy planets. We saw it take out Princess Leia's homeworld of Alderaan. While its ability to blow up an entire planet made the Death Star one of the most dangerous weapons in all of cinema, the Starkiller Base could prove to be much more powerful.
Imagine a weapon that had enough power to destroy our sun. When stars die, they become black holes, right? Entire solar systems would be destroyed, and any surviving planets would be thrown off their axis and sent spinning wildly into the galaxy. With that at their disposal, it seems like the First Order may be way more powerful than the Empire ever was.
Also, building a weapon inside a planet would probably be more time effective for the First Order than, say, building an entirely new Death Star. And having it housed inside an organic planet probably means that they won't need a thermal exhaust port, which has been shown as a weakness.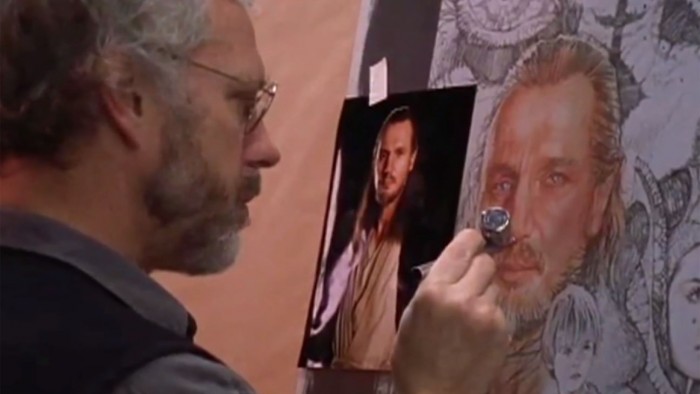 Art By Whom?
No, the poster was not painted by legendary poster artist Drew Struzan, or at least not the Photoshop composite we're seeing. The artist came out of retirement, for what? For a D23 Expo exclusive fan teaser poster? Seems strange right? After seeing a rough cut, the artist has even publicly stated that Star Wars: The Force Awakens would probably be far and away the best Star Wars movie we've ever seen. So it seems weird that this final poster looks kind of like a Drew Struzan creation, but not — right?
Bryan Morton is the art director behind the poster, and thats all that we are able to say at this time. But something is really fishy here!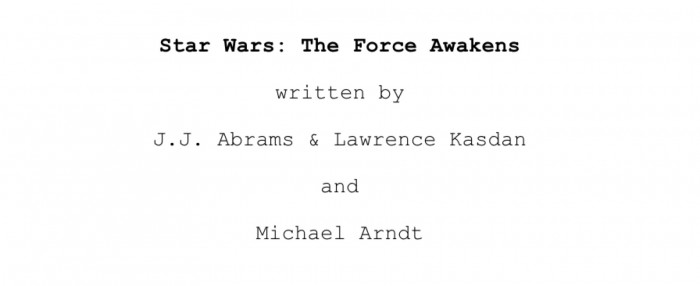 Michael Arndt Gets Screenwriting Credit
The credit block on the bottom of the poster reveals that Michael Arndt gets a screenwriting credit alongside J.J. Abrams and Lawrence Kasdan. Of course, Kasdan and Abrams are grouped as a team, separated by an "and" for Arndt, per WGA standards.
We had heard many rumors over the development of Star Wars Episode VII that Abrams had disagreements with Arndt over the direction of the story, and some even reported the much of Arndt's initial treatment, which the screenwriter supposedly worked on under George Lucas before he sold off the property, was thrown out.
We had never heard that. Abrams has spoken in the past saying that Arndt wasn't able to accomplish what he needed due to the aggressive time frame needed to complete the screenplay. I've heard that the finished version of Star Wars: The Force Awakens will very much have many of the same rough beats of Arndt's original work on the film, which may be why he still gets credit on the movie.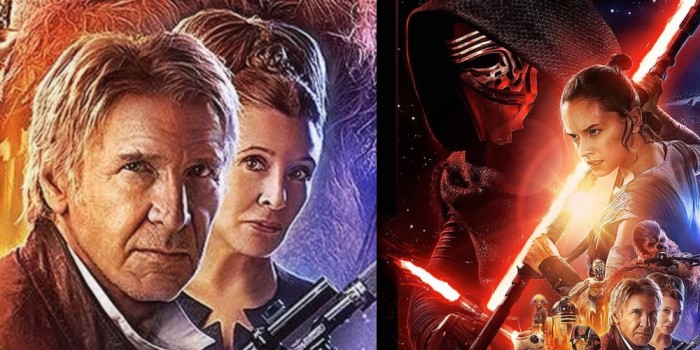 Suggestive Placements
I wanted to discuss some of the suggestive placements in this poster design:
The almost ying-yang placement of Rey against Kylo Ren seems to suggest a lot. While this is the second poster with Finn wielding a lightsaber, it's also the second poster with Rey in the middle. Is Rey the real Force-sensitive in this new group?
Grouping Han Solo and Princess Leia together might suggest they are still together in this film, which is something that has been rumored not to be the case.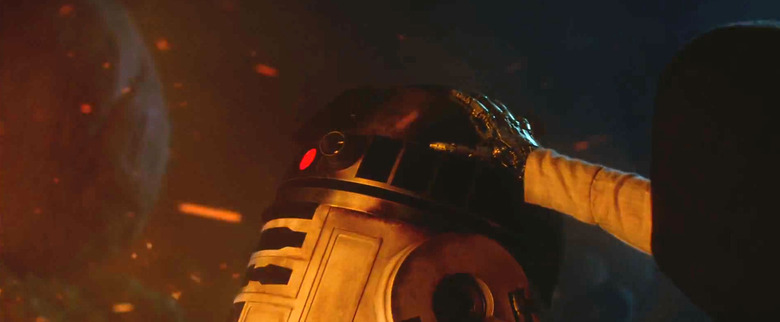 Where's Luke Skywalker?
We've been saying since the film was still shooting that we would probably not see Mark Hamill as Luke Skywalker in any of the marketing material. Sure, we did see him briefly in the second teaser trailer (see screen capture above), but we didn't really "see him." We had a good source reveal all this very early on, and I've tweeted and included mentions in articles over the past year.
I'm not sure of the exact reason, but the filmmakers and studio think that showing Luke might reveal too much about his role in this story. Before you freak out, I wouldn't take that as a spoiler in any way. I wouldn't be worried that his exclusion from the poster means much of anything — it has been in the plans for a long time. Notice that the only new action figures of Luke Skywalker are of his Empire Strikes Back look, and not his appearance in this new film. A photo of Mark in Skywalker costume leaked out months ago and Disney was very aggressive in getting it removed from all of the inter webs.

No Episode Number in the Final Logo
Leading up to the poster premiere and the trailer release today, it had been reported that the final Star Wars: the Force Awakens poster would feature a new logo for the movie. It did not. The logo remains the same, which has annoyed some diehard fans as it does not include the episode number. Symmetry is important to some, and especially with these new "A Star Wars Story" films coming soon, it seemed like something that could have helped differentiate the Skywalker saga films from the anthology movies.
It's interesting that Disney wants to keep close to the same aesthetics of the previous six films with a poster that almost looks like Struzan's series of one-sheets, yet not have a poster by Struzan, and differentiate itself as something different and new with the new style logo.