Rumor: Christopher McQuarrie Toughened Up The 'Rogue One: A Star Wars Story' Script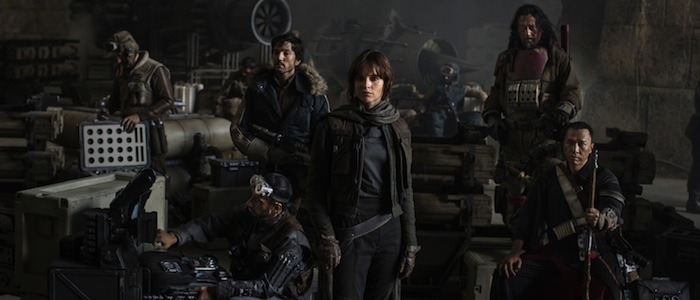 Every major Hollywood production is a merry-go-round of screenwriters coming and going, fixing and polishing. It's never surprising and often never commented upon when a new writer is brought onto a new project to replace another. But since Rogue One: A Star Wars Story has the words star and wars in the title, the internet has been keeping a careful watch on this project. Fans of this series have always been an obsessive bunch and this mysterious film, the first in a whole series of spin-off movies, grants them something brand new and totally unique to get obsessed with.
Anyway, here's the latest report for you to over-analyze: a new rumor claims that screenwriter Christopher McQuarrie did some work on the Rogue One screenplay. Hit the jump for more details on the Rogue One screenplay rumor.
The news comes from the folks at Latino Review, who have landed Star Wars scoops in the past. Still, treat this news with the right amount of caution. Until something concrete surfaces, we're going to label this one as a rumor and treat all discussion about it as purely theoretical for the time being. Sound good? Okay.
If it's true, this is certainly very interesting news. McQuarrie is best known for writing (and winning an Oscar for) The Usual Suspects, but he's spent the past few years padding out his filmography with very interesting work as a screenwriter and director. With writing credits that include Valkyrie and Edge of Tomorrow and directorial credit on movies like Jack Reacher and Mission: Impossible – Rogue Nation, he's shown a knack for making big, populist blockbusters that don't sacrifice intelligence, humor and character to deliver their thrills. There's a rough, muscular edge to his movies, which are bit leaner and bit meaner than many of their peers. Even his earlier work, like The Way of the Gun (which put him in director's jail for over a decade despite being terrific) reflect his sensibilities. He writes stories that don't take prisoners.
Which makes him a seemingly ideal guy to do some work on Rogue One, which promises to be the toughest Star Wars movie yet. Although the details of Gareth Edwards' currently filming spin-off remain under wraps, we know it will be a military story focusing on the team of Rebel Alliance soldiers that steal the plans to the first Death Star. You know, the ones that eventually end up getting implanted in R2-D2 at the start of the first movie. Edwards says that his movie will finally put the "war" in Star Wars, putting a focus on brave (and expendable) soldiers, not Jedi Knights.
Rogue One was initially scripted by Gary Whitta, who bowed out earlier this year so Chris Weitz could take a crack at the project. Latino Review says that McQuarrie's stint on the project only lasted two weeks, which meant he was hired to help tighten things up and provide a polish, not drastically rework anything. It wouldn't be the first time McQuarrie has done this kind of work and it's certainly not a sign that anything is wrong with the movie. In fact, seeing what those three very different writers have put together should prove interesting.Rogue One is filming right now for a December 16, 2016 release date. The ludicrously great cast includes Felicity Jones, Diego Luna, Mads Mikkelsen, Forest Whitaker, Donnie Yen, Ben Mendelsohn, Alan Tudyk, and Riz Ahmed.