The Best & Worst Sketches From Tracy Morgan's 'Saturday Night Live'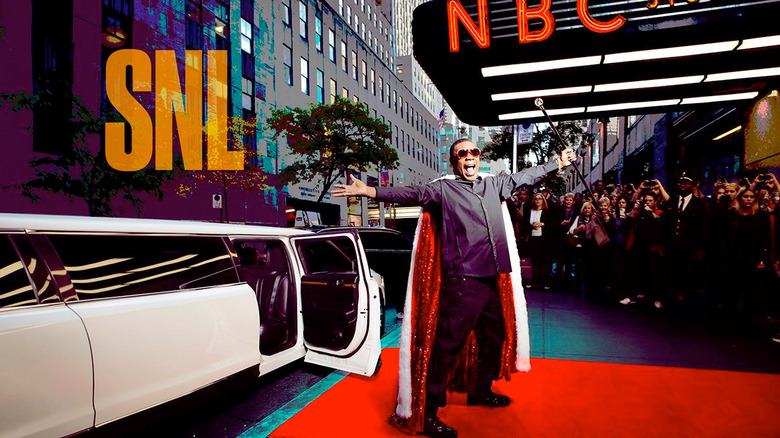 Last night brought Tracy Morgan back to Studio 8H to host Saturday Night Live for a second time, after hosting the show back in 2009. But more importantly, this was also his first time actually performing (with the exception of a couple small appearances on awards broadcasts and talk shows) on television since his near-fatal accident about 16 months ago.
The good news is that not only was this a triumphant return for Tracy Morgan, but this was just a plain great episode of SNL. I'm not even cutting Morgan slack since this is a big comeback for him. This was just a solid episode all around, and Morgan's presence only made it better. So let's get down to the sketches.
Check out our full review of the Tracy Morgan Saturday Night Live episode below!
The Best
Family Feud: Extended Family – Saturday Night Live has done Family Feud before, and I never get tired of Kenan Thompson's dead-on Steve Harvey impression. But usually they make it Celebrity Family Feud as a showcase for other impressions. Thankfully, this one actually had a great premise following a broken family and the new family that the father (Tracy Morgan) left behind. Thompson's reaction to the drama only adds to the hilarity. This was almost as good as Black Jeopardy with Louis CK.
Yo! Where Jackie Chat at Right Now? – At first I had no idea what the hell this was going to be. It felt like it was just going to fall flat. But then out of nowhere it just got more and more ridiculous. The cavalcade of people who didn't know where Jackie Chan was, which included great impressions from Jay Pharoah as Chris Tucker and Taran Killam as Owen Wilson (and not so great impressions like Bobby Moynihan as Steven Seagal), saved and elevated it at the same time.
Democratic Debate – Over the past few years the cold opens, especially the topical political sketches, haven't really been up to snuff. But last night was one of the best in recent memory. With the genius casting of Larry David (who actually used to write at SNL years ago) as Bernie Sanders, which is nearly on the same level as Tina Fey as Sarah Palin, SNL showed that while they do skew towards the liberal side of things, they have no problem poking fun at them too. David's take on Sanders exaggerates the crazy uncle side of the politician, turning it up to 11, and it was a pure delight.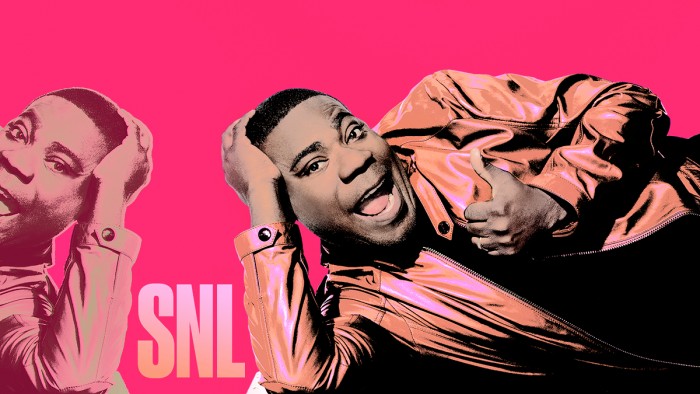 The Average
Astronaut Jones – It took all the restraint I have to not put this in the best. Astronaut Jones is a completely stupid sketch, and the opening and closing titles are longer than the actual live part of the sketch. But every single time this sketch happens, I laugh. Really hard. I know what's coming, and yet I absolutely crack up. I just love that this sketch still recurs when Morgan comes back and that they haven't updated the aforementioned opening titles. Plus, The Martian opening was a nice departure form the usual presentation of this sketch.
Mitchell's Fake Cocaine – This was a hilarious commercial concept, but it felt like it kind of puttered out at the end. I got a good laugh out of the follow-up product for when the first product doesn't work, but I feel like the ending could have been a little better.
Brian Fellow's Safari Planet: A Beaver and a Camel – Even though I love Brian Fellow's Safari Planet, it's pretty hit or miss. And while it really was wonderful to see Morgan shouting "I'm Brian Fellow's again," this was one of the instances where the sketch itself wasn't quite as good as it could have been. By the way, despite the fact that they use real animals on this sketch all the time, I didn't think that camel was real until he started walking in front of the camera and getting in the way.
The Worst
The Standoff – Tracy Morgan's intensity on this pre-recorded sketch was amusing, but there were two problems I had with this sketch. First, the silly face-off just seems like such an overused concept, and second, the sketch never really pays off with a big joke.
The Good Morning Song – All the technical parts of the sketch, from the blocking, to the wardrobe, to the set, were very well done. But the lead-up to the punchline just didn't land all that well. Morgan made it funnier than it otherwise might have been in someone else's hands, but it wasn't enough to make the sketch overall any better.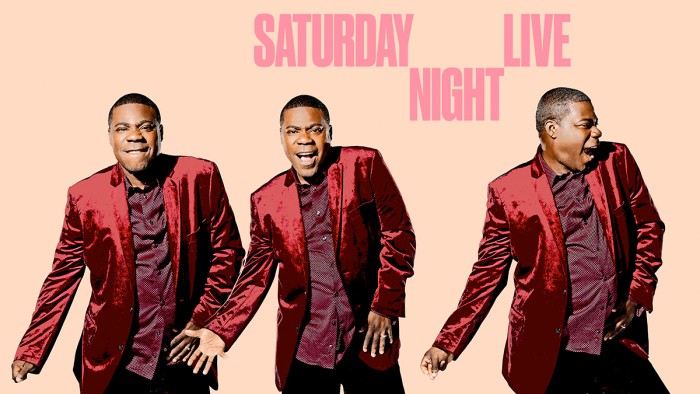 Weekend Update
Colin Jost and Michael Che are on a two-episode streak of making Weekend Update work really well, and for me, it was again because of their interaction and handing off about the presidential candidates. It was only one minute out of the whole Weekend Update run, but it worked and I hope they can keep this up.
Tina Fey on Playboy – Tina Fey was already stopping by as a surprise guest star for the monologue bit (we'll get to that below), and it was great to have her offer up her own side segment by laying into the sexual relic that is Playboy. I wonder if this was a creation of Fey's comedic mind or something that another writer came up with, but needed the right person to deliver. Cecily Strong could have done this well, but Fey did add some weight to it.
Willie on Halloween – Willie isn't my favorite recurring character, but Kenan Thompson's earnest, upbeat outlook on his terrible life is always charming. However, this particular installment of Willie's stop by Weekend Update was made all the better by a trademark Tracy Morgan character being revealed as Willie's life coach. Woodrow, the bum who lives in the sewer, stopped by the desk and he and Willie delivered his trademark song, just like he used to.
The Host
Tracy Morgan wasn't ever really a breakout star of Saturday Night Live, but he found some solid footing playing a very exaggerated and eccentric version of himself on 30 Rock. But each time he's returned to the show, it's been fantastic. His recurring characters are so outrageous and strange, and I love seeing them make a comeback.
As I said before, Morgan wasn't great just because he returned from his accident and showed up. He did exactly what we would expect him to do in perfect health and came through, even making a great joke about his mental condition to start the show. Plus, you can't go wrong with getting what is essentially another live episode of 30 Rock in the above monologue.
The MVP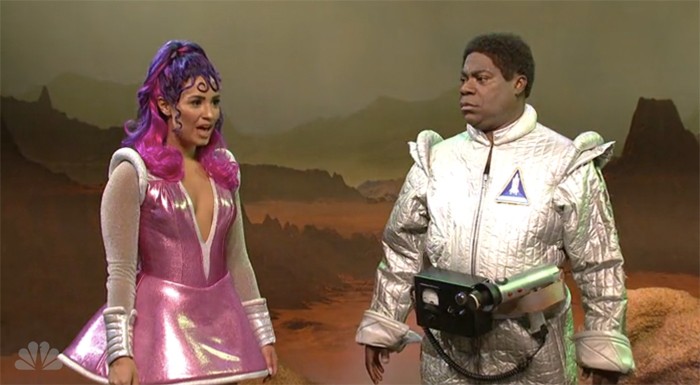 Tracy Morgan – There's really no one else who measured up to Tracy Morgan on the show. It wasn't just because he was the host, but Morgan really gave it is all. You could tell he felt and home, and this was exactly what he needed to know that he was really back to where he needed to be. Even the sketches that stumbled didn't fall flat on his account. It was just the usual SNL struggles here and there. It really was great to have Tracy Morgan back, and I'm just glad he's all right.Bonus MVP: Larry David – He was just in a single sketch, so he couldn't really be the MVP of the whole show. But his presence as Bernie Sanders was so pitch perfect, and it really set the tone for what turned out to be a stellar episode all around. Now we can only hope that Larry David will keep coming back as Bernie Sanders as long as he's in the race.
The Final Word
Out of the three opening episodes, this one was undoubtedly best. Tracy Morgan just had everybody working at their best, and there was the right amount of nostalgic returning characters and fresh new stuff to make for a fantastic episode. We've had a steady rise in quality since the season premiere with Miley Cyrus, and I hope that this momentum will carry into the next episode with Donald Trump. But we've got a long break until then, so we'll see what happens.
We'll be back with a review of the next episode after Donald Trump hosts on November 7th.