VOTD: Mercedes Thanks Doc Brown For Inspiration In 'Back To The Future' Themed Ads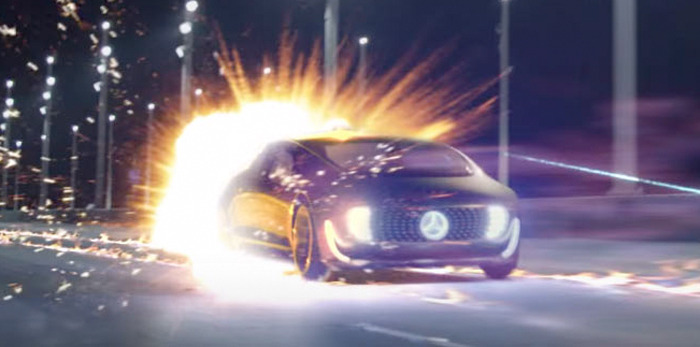 Obviously we're huge fans of Back to the Future here at /Film, and we can't wait for all the fun that awaits us on Back to the Future Day next week. However, the bandwagon is getting a little full with all the promotions being tied into the time traveling film franchise at this point.
While we're fine with all the merchandise being sold to commemorate the films, such as the Pepsi Perfect bottles and Mondo vinyl soundtrack releases, some of the tie-ins from unrelated companies is a little overboard. Just recently a Toyota ad with Christopher Lloyd and Michael J. Fox surfaced, which is fine since Toyota is actual a prominent brand in the movie, but now there's a Mercedes Back to the Future set of advertisements as well.
Here's the trio of quick Back to the Future themed Mercedes spots (via CarScoops.com):
While I will say that using their autonomous concept car as a time machine like the DeLorean is a nice touch, these ads just feel like a reach in order to tie in to Back to the Future Day. After all, was Mercedes really inspired by the Robert Zemeckis film in thei design of the concept car? It looks like any futuristic sci-fi movie could have served as inspiration, but Back to the Future is just topical and relevant right now, so Mercedes is riding that wave out.
At the very least, maybe now a fan has some new footage they can use in order to create a fake trailer for a Back to the Future reboot or something like that. Plus, Christopher Lloyd just said that he would be up for making Back to the Future 4 if it ever became a real possibility. But as we know, a sequel or reboot will only happen if Zemeckis and Bob Gale approve, and if they don't it can only be done literally over their dead body. It's likely not something we have to worry about anytime soon.
Anyway, Back to the Future Day is nearly upon us, so you better figure out how you're going to celebrate the time traveling trilogy on October 21st, 2015. We've got a whole guide of cool events, screenings and memorabilia for the celebratory day, and there might be even more goodies in store, so stay tuned for any updates from the future.