The TV Show You've All Been Waiting For Is Coming: 'My Best Friend's Wedding'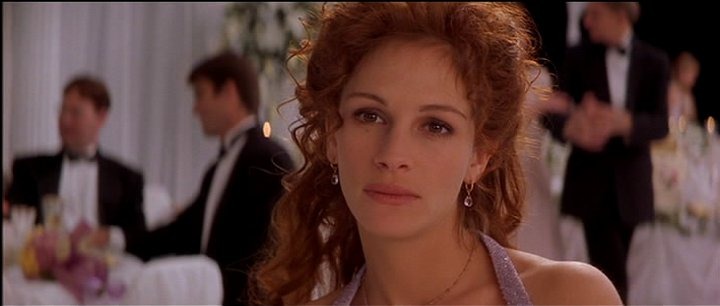 Well, nobody probably expected to read this piece of news this week. A lot of movies are making their way to the small screen, like the recent Fox reimagining of Minority Report and the upcoming The Island of Dr. Moreau, but My Best Friend's Wedding? Not exactly a no-brainer of a project. Learn more about the potential My Best Friend's Wedding television series after the jump.
My Best Friend's Wedding made close to $300 million when it came out in 1997. Julia Roberts (Closer) was arguably at the top of her career, but that box-office figure is definitely unheard of these days for romantic comedies. Strangely, it took director P.J. Hogan six years to make another film, Peter Pan, the faithful and overlooked adaptation of J. M. Barrie's story. Hogan and Roberts aren't involved in the My Best Friend's Wedding television series, but the movie's screenwriter, Ron Bass, who also co-wrote Rain Man, has a huge hand in the movie's transition to television.The Hollywood Reporter says ABC is working with Bass on the project. The show will be a sequel, centered around Julianne Potter (Roberts' original character). She's living in New York City, and she's still best friends with George (Rupert Everett's original role). I remember very little about My Best Friend's Wedding, but what I do recall is Everett and Roberts' chemistry. Are they characters I'd want to watch every week in a 30-minute, single-camera comedy? Not really, but if they can somehow recapture what Roberts and Everett brought to the roles, the show could be charming.
Ron Bass is writing the script with Jessica Amento. Bass, in addition to Jerry Zucker (Top Secret!) and Janet Zucker (Friends with Benefits), will executive produce the series. Jerry Zucker hasn't directed a film since 2001's Rat Race, but My Best Friend's Wedding is one of the many films he's produced. The Zuckers will also work with Adam Sandler (Funny People) and Doug Robinson's (The Goldbergs) Happy Madison Television.
Is My Best Friend's Wedding a timeless movie? We all know the title, but will people care enough to tune in on the name alone? Making a quality show would certainly help. Besides Rupert Everett and Julia Robert's enticing rapport, the only other thing I remember about the movie is when the two actors and a large group sing "I Say A Little Prayer For You" together, in a restaurant, mind you. In a movie, perhaps that's charming, but in real life? Incredibly annoying and rude.