Cool Stuff: Joe Dunn's 'Tomorrowland' Print Is Filled With Disneyland Easter Eggs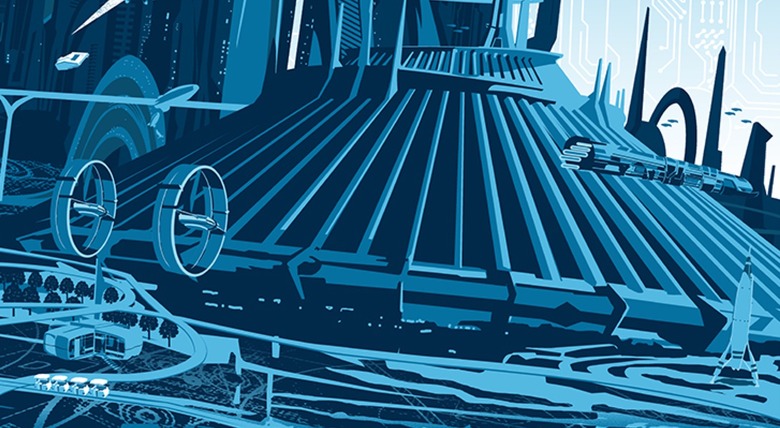 Cyclops Print Works will be releasing a new screen printed poster today by artist Joe Dunn for Brad Bird's Tomorrowland. I know a lot of you weren't fans of Tomorrowland, but as a Disneyland fanatic I really enjoyed much of the first half of the film. And this poster is stunning, and filled with a ton of Disneyland Easter eggs – can you spot them?
Hit the jump to see the full Joe Dunn Tomorrowland print in full, and learn how you can get it.
Here is a full look at the Joe Dunn Tomorrowland screen print which made its debut on Disney Insider: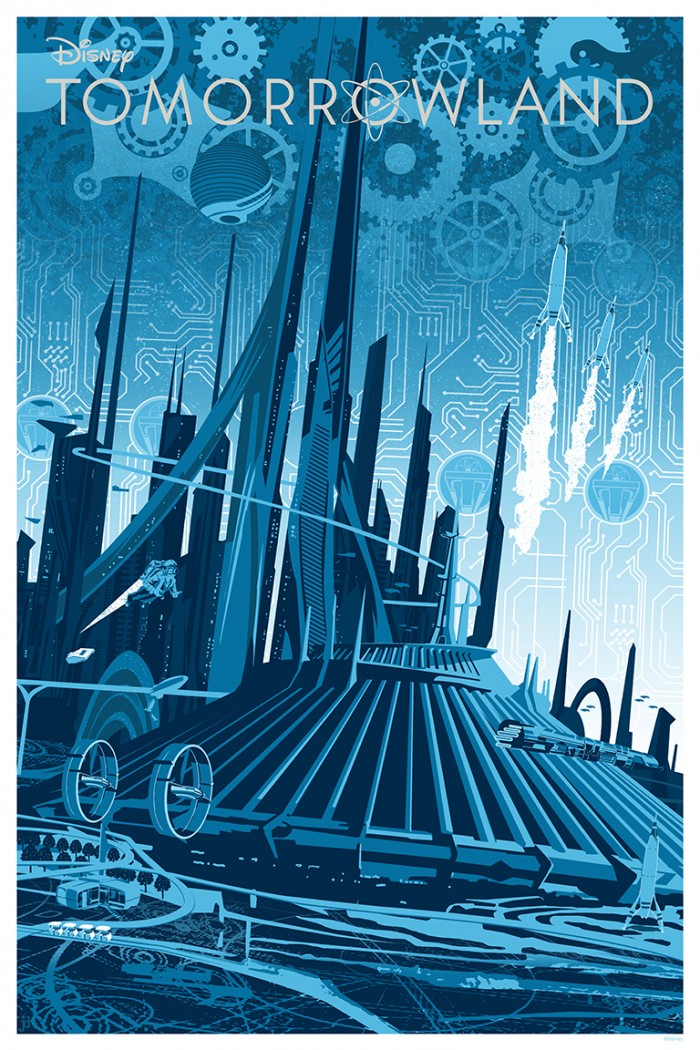 As I noted above the jump, I particularly like this print's many hidden nods to Tomorrowland in Disneyland. I'm sure there is more, but I've spotted: the People Mover, the House of the Future, the Monorail track, Rocket to the Moon, the Star Speeder from Star Tours, and the most obvious one: Space Mountain. Am I missing anything?
In celebration of the debut of Tomorrowland on Blu-ray/DVD this past Tuesday, Cyclops Print Works will be releasing Tomorrowland by Joe Dunn at 12:00pm noon PST on October 16th, 2015 for $55. Joe Dunn's Tomorrowland is print #11 in the Cyclops Print Works series. The 10-color Serigraph design is printed on 20" x 30" Stardream Crystal 285 gsm paper using split fountain printing by Eclipse Workshop. Officially licensed by Disney, this hand-signed and numbered piece is limited to only 164 prints. Act fast as those are sure to go fast. I've even heard a rumor that the background design might be printed iridescent.
Joe Dunn currently works as a Marketing Art Director for Walt Disney Animation Studios and Disneytoon Studios, where he has created film logos, marketing and publicity key images, trade and industry ads, presentation visuals, and other promotional materials. He designed the Wreck-It Ralph arcade cabinet. We've previously featured Joe's work on the site when he created a series of handbills for Walt Disney Animation Short Films that were released at D23 Expo 2015. Joe has worked on Prep and Landing, Tangled, Winnie the Pooh, Wreck-It Ralph, Frozen, Planes, Tinker Bell, Big Hero 6, and upcoming Disney titles. Joe started his career at WildStorm Comics working with Jim Lee.
We've noted many times in the past, Cyclops Print Works has become one of the best pop culture screen print companies out there. Not only do they have the official license for Disney properties, but they are employing a bunch of incredible and popular artists to create some great limited edition screenprints. We've written about their prints a few times in the past (D23 Expo, Inside Out, Feast, JC Richard's Cinderella and Mark Englert's Aladdin).