'Collide' Trailer: Anthony Hopkins Destroys Worlds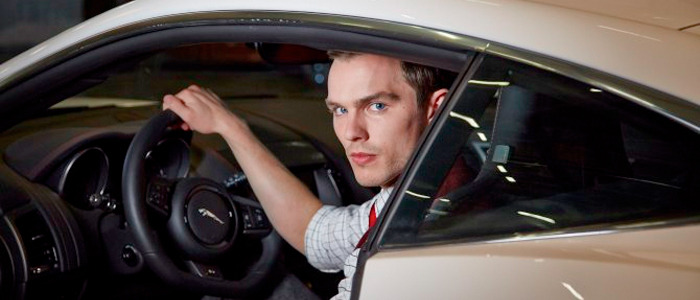 X-Men: Apocalypse is Nicholas Hoult's most high-profile release in the near future, but he has a slew of other projects coming up as well. The Mad Max: Fury Road co-star is in Drake Doremus' (Like Crazy) sci-fi drama Equals, Owen Harris' (Black Mirror) Kill Your Friends, and a movie that few of us knew about, Collide. See the first Collide trailer after the jump.Eran Creevy's (Welcome to the Punch) action movie, written by the director and F. Scott Frazier (The Numbers Station), has a very respectable cast. Nicholas Hoult is joined by Felicity Jones (The Theory of Everything), Sir Ben Kingsley (Gandhi), and Sir Anthony Hopkins (Instinct). The heist film is about, of course, a heist that doesn't go according to plan. Is it one last job, too? The trailer doesn't say, but it sure does show a lot of fast cars.
Here's the Collide trailer:
Trailer removed at the request of IM Global
Yes, that's Sir Ben Kingsley screaming on the phone, wearing goofy sunglasses not even a pimp would be caught dead wearing. I had to rewind the trailer once or twice just to fully comprehend what we're seeing here, because Kingsley looks like he's in a completely different movie. Maybe his performance will suit the film, but watching this trailer, it stands out. Big time. In a great way.
And, to be fair, you shouldn't make too many judgements based on a foreign trailer. They're generally not well cut, aren't of the highest quality, and lean heavily on the action, not so much the plot. But the plot, in this case, looks pretty light. Creevy's last film, Welcome to the Punch, was more about aesthetic, set pieces, and performances than story — and it worked in that movie's favor. It's a really fun, slick action movie, in spite of its by-the-numbers story. Creevy got fine performances out of Mark Strong (Tinker Tailor Soldier Spy) and James McAvoy (Atonement), so, with Collide's cast, the odds are the acting will be a highlight, maybe elevating a seemingly thin story.
After a heist goes terribly wrong, Casey Stein (Hoult) finds himself on the run from a ruthless gang headed by mob boss Hagen (Hopkins). Now Casey has precious cargo that belongs to Hagen, who will stop at nothing to retrieve it. Left with no choice, Casey calls his former employer and drug smuggler Geran (Kingsley) to protect his long-time girlfriend Juliette (Jones) before Hagen gets his hands on her. Casey sets out on an adrenaline-fueled car chase on the German highways to save the love of his life.
Collide is currently without a US release.