'Fast And Furious 8' Confirmed To Go VROOOM! In New York City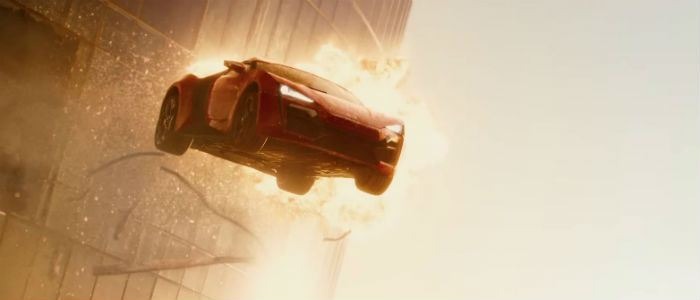 There is all kinds of drama stirring behind the scenes of Fast and Furious 8 right now. The eighth film in the increasingly insane action series, which will kick off a supposedly final trilogy of movies, finally found its director in F. Gary Gray, but only after Furious 7's James Wan fled the series like his life depended on it... literally. So fans could use some good news about this movie right now. Well, they could use any news that isn't about how nothing is going right behind the scenes.
So how about confirmation that Fast and Furious 8 will take place in New York? That's good, solid, interesting, drama-free news, right?
Vin Diesel, aka, that shiny, mumbly, adorable core around which this entire series revolves, was on The Tonight Show to promote his new movie, The Last Witch Hunter. Naturally, the conversation eventually shifted to future projects and Jimmy Fallon asked where Fast and Furious 8 would take place. Diesel's response (via Latino Review): "New York, baby!"
We first heard word that the series would be swapping coasts earlier this year, but this sounds like the confirmation we've been waiting for. If the behind-the-scenes stories are true, then Diesel is the one calling many of the big picture shots on this series, so if he tells Fallon that the new movie is set in New York, we'll believe the big ol' lug.
Although the series has its roots on the West Coast and the American Southwest, recent entries have taken Diesel's Dominic Toretto and his crew all over the world from London to Dubai. So it's about time for the series to head to the East Coast. After all, there are countless automotive vehicles just waiting to be smashed up in ridiculous car chases there, too. This series shan't leave any major city untouched.
Of course, the city of New York offers all kinds of insane possibilities for action sequences. The sprawling highways of the greater Los Angeles area couldn't be more different than the tight, heavily populated streets of the Big Apple. If these guys staged an action scene at the Burj Khalifa just so they could have a sports car ramp off one skyscraper and into another, imagine what could happen when this series goes to New York. No rooftop will be without tire treads! No window shall remain un-shattered!
Fast and Furious 8 is eyeing an April 14, 2017 release date, so we should be hearing more soon. At this point, we wouldn't be surprised if the final action scene involves the crew piloting the Space Shuttle off the Brooklyn Bridge or something. How else are they going to top Furious 7?