'Dungeons & Dragons' Nerd Vin Diesel Was Once Approached For The Movie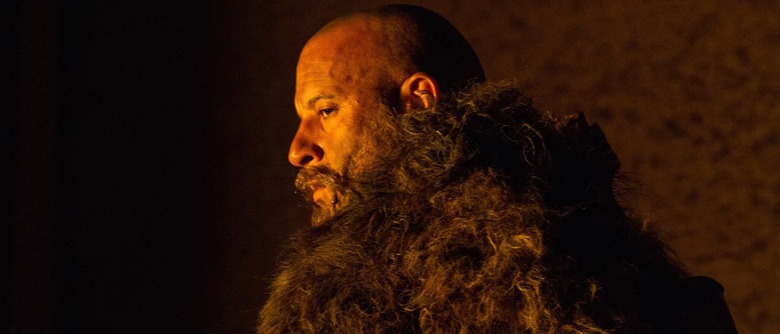 We may receive a commission on purchases made from links.
Vin Diesel is a nerd. Okay, maybe he's not a nerd, but he does play Dungeons & Dragons. The Last Witch Hunter star has professed his love for the game many times. Once again, he's sharing his passion for D&D and the potential film, which, he says, he's been approached for in the past and would still consider being a part of. Could we see Dungeons and Dragons starring Vin Diesel? Learn more after the jump.
Over a decade ago Diesel wrote a foreword for a Dungeons & Dragon book, celebrating the 30th anniversary of the game. The actor was a big fan of game as a kid, and just last week he shared on his almost always illuminating Facebook page a video of himself after playing Dungeons & Dragons at Nerdist HQ. D&D is no joke to Diesel.
It's been 15 years since the first big screen attempt of Dungeons & Dragons, starring Jeremy Irons (Dead Ringers). It's fair to say most people have forgotten that movie by now, and for those who haven't, my condolences. Two years ago Warner Bros. secured the rights for the property, and the studio has a script from David Leslie Johnson (The Conjuring 2). It's been speculated we'd see the movie sometime around 2019.
While promoting his newest film, The Last Witch Hunter, CinemaBlend asked Vin Diesel about the project. Here's how he responded:
I have a friend named Flint Dille, who's one of the writers for my company who, you know, will write something for Riddick, or he'll write something for Hannibal. If you ever read that graphic novel "300" from Frank Miller, there's a character that's modeled after this guy Flint Dille, who's named Flint Delius and he's the orator, he's the one telling you the whole 300 story. In fact, when I was in one of my more intense pre-production phases of Hannibal, Frank Miller was at my house sketching out storyboards... But he said he was great friends with [D&D co-creator] Gary Gygax, and he said something that really, really shocked me, which was that Gary Gygax, before he passed away, said that he wanted me to tell his story. So, whatever it would be in the world of D&D, it would have to be very sacred. And that's how you get me.
Diesel also said he was approached in the past for a D&D adaptation, but was too busy at the time. The actor currently has another Fast and Furious trilogy coming up, another xXx film, Guardians of the Galaxy Vol. 2, and, I'm sure, is hoping The Last Witch Hunter becomes a franchise. I've never played the board game, but I know I'd watch Dungeons & Dragon starring Vin Diesel, a.k.a. Xander Cage, if it involved him fighting a dragon or mythical creatures of some sort.