Nick Offerman Will Have An Awesome Guest Role On 'Brooklyn Nine-Nine'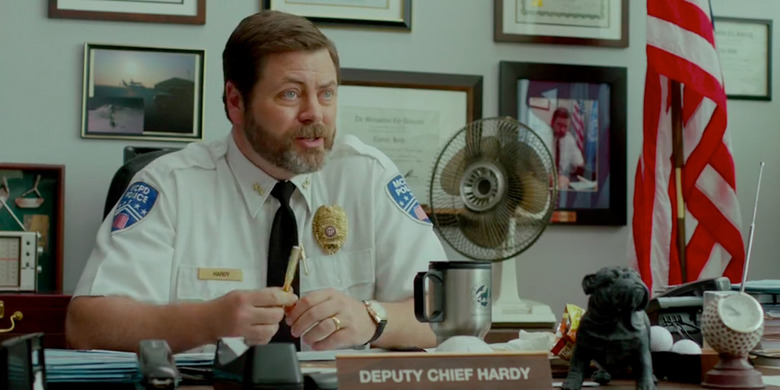 It's been tough living life without Ron Swanson ever since Parks and Recreation ended earlier this year. But thankfully, the actor who effortlessly brought one of television's greatest characters to life is returning to the small screen with a stellar guest role.
Nick Offerman will be stopping by Brooklyn Nine-Nine in November. However, as the precinct deals with fluctuating captains following the transferring of Captain Holt (Andre Braugher), Offerman won't be playing the new supervisor as he does in the 21 Jump Street movie series. His role might actually be even better. Find out more about Nick Offerman in Brooklyn Nine-Nine below!
Fox officially announced that Offerman will be stopping by their police comedy series, but it's EW that has details on his role. The actor who was sorrowfully never nominated for an Emmy for his work on Parks and Recreation will be playing Frederick, the ex-boyfriend of the uptight yet secretly sentimental Captain Holt.
Offerman will appear in the November 22nd episode called "Ava" that will air just before Thanksgiving. Details aren't abundant, but Frederick ends up crossing paths with Holt in a storyline where Sergeant Terry (Terry Crews) and his wife Sharon (Merrin Dungey) are giving birth to their third child.
It should come as no surprise that Brooklyn Nine-Nine is bringing a Parks and Recreation cast member into the fray since the latter series' creator Michael Schur and executive producer Dan Goor are the creators of the former. But that's not where the connections end.
Chelsea Peretti (who plays Gina) was a writer on Parks and Recreation, where Andy Samberg popped up as a guest star. In addition, guest stars such as Jenny Slate, Nick Kroll, Patton Oswalt, Bradley Whitford and more have popped up on both comedy shows. It's a treasure trove of information for anyone playing Six Degrees with comedic television.
And guess what? Offerman actually has an indirect history with Brooklyn Nine-Nine already. If you've ever watched an episode long enough to see the production company credits after the show, you'll hear Offerman doing the voice over for the Fremulon company logo.
The actor is just coming off a cameo on The Muppets and has a recurring role on the new season of Fargo, so it's a good time to be a fan of this American hero. And if you haven't watched it yet, Offerman has a comedy/advice special on Netflix right now called American Ham that's certainly worth checking out.