VOTD: Original 'Paranormal Activity' House Used For An Incredible Prank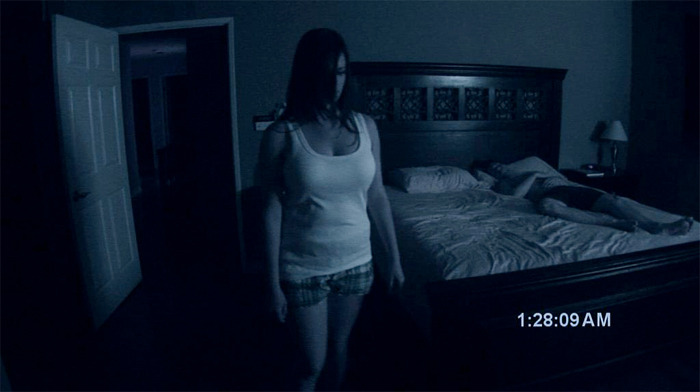 Next week brings what is supposedly the final installment of the Paranormal Activity franchise. The found footage horror sensation began in 2009, when a little Slamdance film garnered so much buzz for being flat-out scary that it became a surprise horror hit. It spawned what will be five sequels when The Ghost Dimension arrives.
And since this is the final chapter of the film series, the marketing team behind the films wanted to have one final bit of fun with some unsuspecting strangers. An effects crew was hired to rig the actual house from the first movie for quite the incredible Paranormal Activity prank. This would scare the hell out of me.
Here's the Paranormal Activity prank from JoBlo:
Since we're all skeptical on the internet nowadays, there's always the chance that some of these people are just actors to help make the stunt go viral, and if that's the case, mission accomplished. But the reactions to that mirror cracking just seem too genuine and shocked to be fake. If these people are actors, then why aren't they working in feature films and televisions shows?
As we said, this is all to help hype audiences for Paranormal Activity: The Ghost Dimension. As someone who has stuck with the franchise, even after Paranormal Activity 3 brought it to a low, I'm wholly interested in seeing where the series goes after the absolutely nuts ending from Paranormal Activity: The Marked Ones. I haven't been that surprised by an ending in a long time.
Fun Fact: Just before I got into the movie blogging business, I was in Los Angeles completing an internship at a production/management company for college. In the fall of 2009, before Paranormal Activity was all the rage around the country, I ended up getting a pass to see an advanced screening on the Paramount Pictures lot, having no indication of what this movie was going to be like.
This ended up being the screening they used for the night vision footage that was used to sell the film to audiences in the original trailer. If you need more proof, here's a screenshot: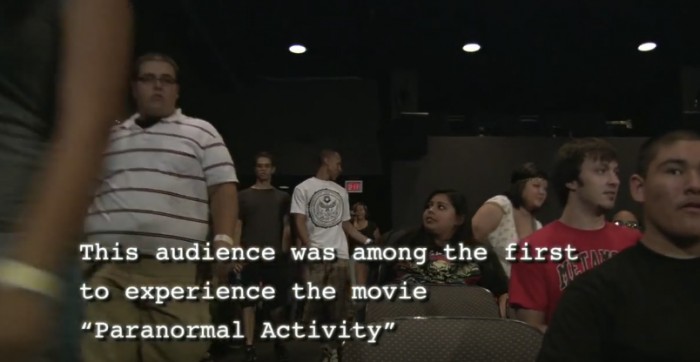 Yes, that rotund film nerd standing on the left is yours truly (thankfully I've lost some weight since then). I must say that I was pretty scared and impressed by that first movie, and it was an incredibly fun audience to see the movie with, because none of us had any idea of what we were about to experience. So if you've ever thought that those night vision audiences were fake, I can assure you that the footage used for at least that first movie was the real deal.