'Die Hard 6' In The Works; 'Die Hard 4' Director Len Wiseman To Return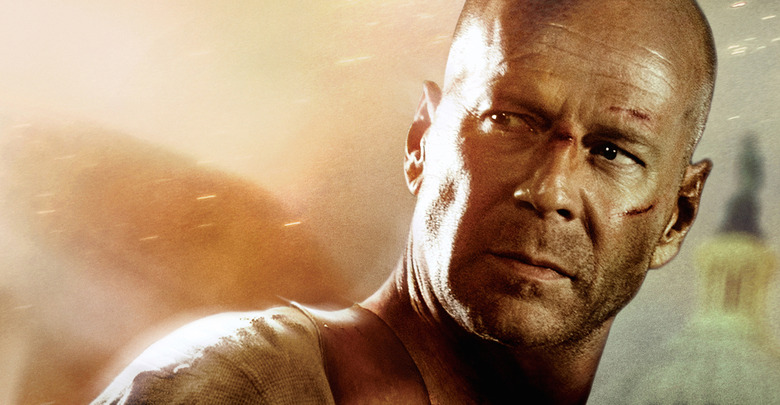 How appropriate that a franchise called Die Hard simply refuses to die. 20th Century Fox is reportedly making plans for a sixth Die Hard movie, with Live Free or Die Hard director Len Wiseman returning to the helm. This one will be a prequel of sorts, but don't worry — Bruce Willis will still get to return in his signature role. More about Die Hard 6 after the jump.
UPDATE: Wiseman has revealed the title of Die Hard 6. Find out what it is after the jump. Deadline broke the news about Die Hard 6. Fox is reportedly making a deal with Wiseman to direct and develop the project. Lorenzo di Bonaventura (Transformers) will produce. The project is still in the early stages, and one of the next steps will be to find a screenwriter to "reinvent" the action series. Willis isn't totally locked in yet, but he's stayed in the loop throughout the whole process so there's no reason to think he won't return.
— len wiseman (@LenWiseman) October 15, 2015
Die Hard 6 will mostly be set in 1979, when Willis' John McClane was just a regular copy in gritty New York City, and "show how he became a die hard kind of guy." A younger actor will play McClane in the 1979 portion of the film, and Willis will appear as McClane in scenes bookending the movie. I'd complain that the whole point of McClane in the first Die Hard was that he began as a fairly ordinary dude, and not "a die hard kind of guy," but that ship sailed several sequels ago.
Di Bonaventura got involved because Fox originally planned to convert one of his projects into a Die Hard sequel, much in the same way it turned Jonathan Hensleigh's spec script Simon Says into Die Hard: With a Vengeance. Instead, Wiseman pitched a different idea that is now moving forward, but di Bonaventura is staying on board anyway.
It's worth pointing out that McClane's origin story has actually been told before, in a comic book prequel published by BOOM! Studios in 2010. It began with McClane as a rookie cop working the 1976 Bicentennial celebration in New York City. It's not clear if the Die Hard 6 movie will draw from that material, or whether it'll be its own thing separate from the comic books.
The Die Hard movies have grossed nearly $1.5 billion worldwide to date. The last film, 2013's A Good Day to Die Hard, fell short of its 2007 predecessor Live Free or Die Hard in terms of box office gross, and was widely regarded by fans as the worst film in the franchise. But it still made $300 million, so here we are.