'Hansel And Gretel: Witch Hunters' Could Become A TV Series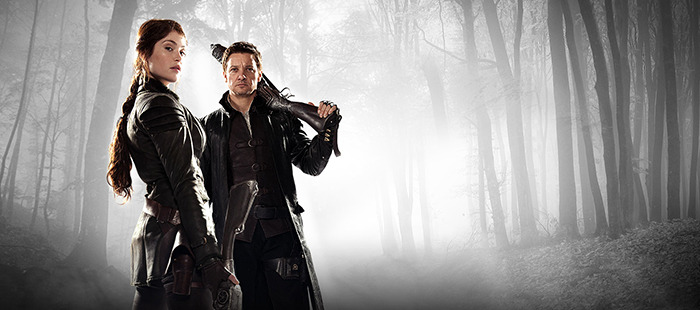 If at first you don't succeed, try... turning it into a TV show? That seems to be the motto in Hollywood right now, as everything from Evil Dead to Jack Ryan has jumped to the small screen after getting stymied the big one. Now the next property to try out this move will be Hansel & Gretel: Witch Hunters, after a few years of rocky development on a cinematic sequel.
Learn all about the possible Hansel and Gretel Witch Hunters TV series after the jump. 
Deadline reports Paramount is scrapping its initial plans for a Hansel & Gretel: Witch Hunters movie sequel, and making new ones for a Hansel & Gretel: Witch Hunters TV series. The project is still in the very early stages, and doesn't yet have a network or writers, but it'll likely wind up a cable series produced by Paramount TV. As of yet, there's no word on which, if any, of the actors from the original could return.
Released in 2013, Hansel & Gretel Witch Hunters starred Jeremy Renner and Gemma Arterton as Hansel and Gretel, all grown up and fighting witches instead of almost getting eaten by them. It was a schlocky delight. Witches were gleefully dispatched in creative and gruesome ways, Gretel got a weirdly sweet subplot with a giant troll, and Hansel spent the entire film running around with a gun that resembled a thick, veiny phallus.
Nevertheless, the movie was a flop in the U.S., grossing just $55 million on a $50 million budget. But it fared much better overseas, grossing $226 million worldwide – which of course inspired Paramount to try and turn it into a franchise. Those efforts have been slow going, however. Bruno Aveillan was hired to direct this past August, after the original's director Tommy Wirkola opted not to return, but we haven't heard much about it since then.
The TV-to-film trend has so far yielded mixed results. CBS' Limitless has emerged as one of this season's more successful new dramas, while FOX's Minority Report just had its first season order cut by three episodes. FX's Fargo, which kicked off its second season this week, is a critical darling but hasn't exactly been a ratings juggernaut. And there are other projects that never even got to air, like that failed Beverly Hills Cop pilot.
If Paramount can find a home at a network that'll let Hansel & Gretel keep its silly, gory sensibility, it's not difficult to imagine the premise reworked into a procedural or monster-of-the-week format. In the meantime, relive the film's glorious insanity with the trailer below.