Robert Rodriguez To Direct 'Alita: Battle Angel' For Producer James Cameron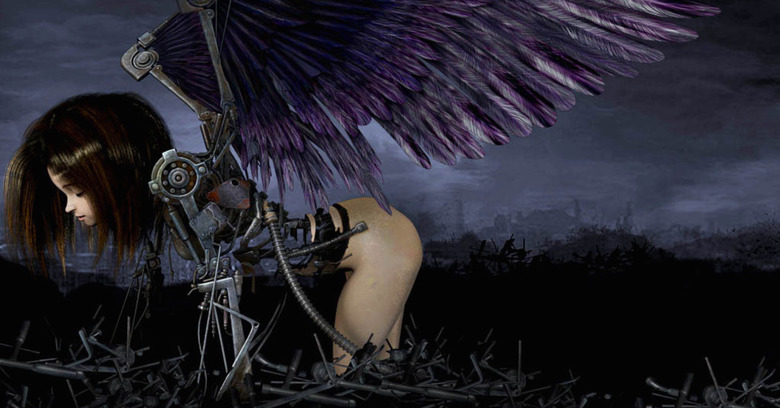 For several years now, James Cameron has been planning to make a live-action adaptation of Battle Angel Alita. But he's been tied up with the Avatar sequels, and has even suggested he might only direct Avatar movies from now on. So where does that leave Battle Angel Alita?
Well, as of today, in the capable hands of director Robert Rodriguez. The Machete director is confirmed to helm the manga adaptation, now going by the slightly different title Alita: Battle Angel. Cameron remains on board as a producer, along with Jon Landau. Read all about the Alita Battle Angel Robert Rodriguez news after the jump. 
20th Century Fox announced today that Rodriguez is in negotiations to direct Alita: Battle Angel. Yukito Kishiro created the original Battle Angel Alita manga series, which premiered in 1990. The story concerns a cyborg in the 26th century who is saved from the scrapyard by a cybernetics doctor. He restores her and names her after his deceased cat, Alita.
The cyborg Alita recalls nothing about her past, but does remember a legendary cyborg martial art called Panzer Kurst. She becomes a mercenary Hunter-Warrior, tracking down dangerous killers while simultaneously attempting to recover her past. The film will be an action-adventure following Alita on a journey of self-discovery and love.
Said Cameron in a statement:
Robert and I have been looking for a film to do together for years, so I was pumped when he said he wanted to do 'Battle Angel.' He's very collaborative and we're already like two kids building a go-kart, just having fun riffing creatively and technically. This project is near and dear to me, and there's nobody I trust more than Robert, with his technical virtuosity and rebel style, to take over the directing reins. We're looking forward to learning a lot from each other while we make a kick-ass epic.
Added Rodriguez:
'Battle Angel' is an incredibly rich and vibrant epic in the tradition of Jim Cameron's spectacular, character-driven films. Getting to work from Jim's terrific and visionary script while learning the cutting edge techniques he's pioneered is a master class in filmmaking. It's an honor to explore the world of Alita along with Jim and Jon, whose films have impacted me for decades.
It's a little disappointing that we'll never get to see what a Cameron-directed Battle Angel Alita might look like, but it's exciting to consider what Rodriguez might do with the material. (And it's not like Cameron's influence is being erased; Rodriguez will be working from Cameron's screenplay, according to EW.) It's also kind of nice to hear this film is actually, finally happening, and won't just be sitting on Cameron's back burner for the rest of time.
Rodriguez's latest films were Sin City: A Dame to Kill For and Machete Kills. Recently, he's also been busy with El Rey's From Dusk Till Dawn: The Series, based on his 1996 film. Alita: Battle Angel looks likely to be his biggest, most high-profile gig yet. Cameron, meanwhile, is still plugging away on those Avatar sequels. The next one is due out in late 2017, unless he pushes back that deadline again.