Cool Stuff: Mark Englert's Aladdin Print From Cyclops Print Works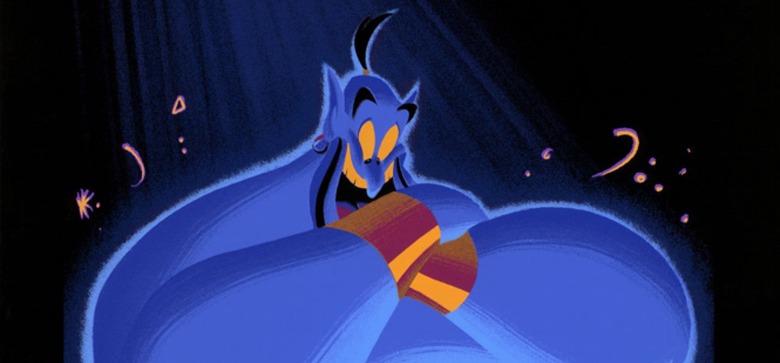 As we've noted before, Cyclops Print Works is quickly becoming one of the best pop culture screen print companies out there. Not only do they have the official license for Disney properties, but they are employing a bunch of incredible and popular artists to create some great limited edition screenprints. We've written about their prints a few times in the past (D23 Expo, Inside Out, Feast and JC Richard's Cinderella).
Today Cyclops Print Works have announced their 6th print, artist Mark Englert's Aladdin-inspired print titled "You Ain't Never Had a Friend Like Me." Find out more details about the Mark Englert Aladdin print, see it in full and find out when and where you'll have a chance to get it, after the jump.
Here is a full look at the Mark Englert Aladdin screen print, which made its debut on IO9:

The Mark Englert Aladdin print "You Ain't Never Had a Friend Like Me" is an 11-color screenprint on 12 x 36 inch paper and released in a limited edition of 275. If you want to buy one, Cyclops Print Works will put the print on sale for $62 at Friday October 16th, 2015 at noon PST at http://www.cyclopsprintworks.com/.
We've featured a lot of Mark Englert's work on the site in the past. He often uses a panoramic aspect ratio, sometimes in horizontal, other times in vertical, to present a scene from your favorite movies and television shows. His pieces are often filled with fun Easter eggs: the obvious one here is a hidden Mickey outline. Can you spot anything else?
Cyclops Print Works has also tweeted out some photos of the actual print, which as usual, looks even better than the digital file above:
Pics of the limited edition @markenglert @aladdin #screenprint #disney available this Friday at 12 pm pst #genie pic.twitter.com/eTfHXALa7r

— Cyclops Print Works (@CyclopsPrints) October 14, 2015
The Aladdin Diamond Edition also hits store shelves this week. Another one of our favorite artists, Eric Tan, created an Aladdin poster which is only available for $10 from Disney Movie Rewards with Blu-ray preorder.