'Thor: Ragnarok' May Introduce Another Female Superhero To The MCU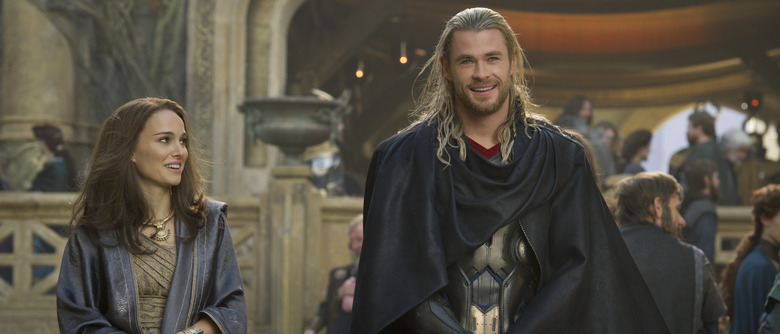 The rumors surrounding Thor: Ragnarok are starting to pick up, and the latest is that it could introduce a pretty significant new superhero to the Marvel Cinematic Universe — and a female one at that. Word is Valkyrie could make her way across the rainbow bridge. Which, in turn, may mean that Enchantress is coming too.
Read all about the Thor Ragnarok Valkyrie rumor after the jump. 
Birth.Movies.Death. posted the Thor Ragnarok Valkyrie rumor. According to their sources, Thor: Ragnarok may send Thor and Hulk together on a sort of cosmic road trip, during which they'll encounter the Valkyries. What's unclear is whether this simply means they're meeting the Valkyrior — a team of warrior demi-goddesses — or specifically the superhero Valkyrie, a.k.a. Brunnhilde.
In the comics, Brunnhilde is an Asgardian who was hand-picked by Odin to lead the Valkyrior. She's long been affiliated with the Defenders, and has been part of the Avengers. Among her biggest enemies is the Enchantress, so if Valkyrie is coming to the MCU (which again, is still a big if), it's not unrealistic to think Enchantress may also come along.
The Thor film series has quietly established itself as one of the most female-friendly corners of the MCU. It's got four prominent female characters (Jane, Darcy, Sif, and Frigga), all of whom are treated respectfully by its male lead, and easily passes the Bechdel test. If Marvel wanted to bring another female superhero into the fold, a Thor movie would be a great place to do it.
In other Thor: Ragnarok news, Birth.Movies.Death. has also heard that the very thing that made Taika Waititi a wildly unexpected choice to direct — the fact that he's way better known for indie comedies like What We Do in the Shadows than he is for large-scale action or drama — may be exactly the thing that made Marvel want to hire him.
Apparently, the script by Christopher Yost and Craig Kyle is far darker and grimmer than Marvel's usual offerings, and the studio wanted to bring in a comedy director to help lighten it up a bit. The first Thor proved how funny its eponymous hero could be, and that humor was sorely missed in Thor: The Dark World, so hopefully Waititi will be the one to bring some laughs back to the series.
Thor: Ragnarok opens November 3, 2017. Chris Hemsworth is expected to return as Thor, along with Tom Hiddleston as Loki and Jaimie Alexander as Sif.