Donald Trump To Host 'Saturday Night Live' Again In November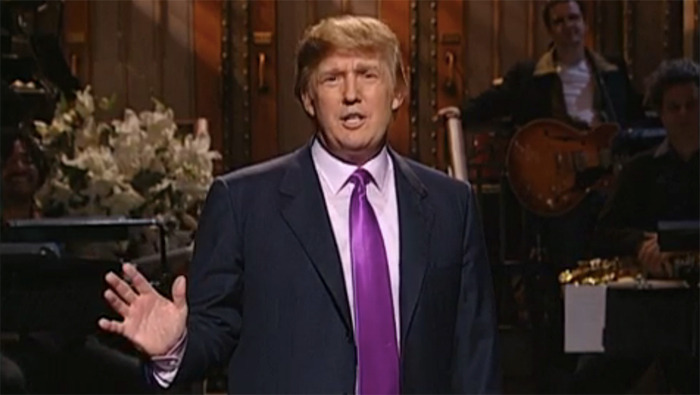 Even before he became a candidate for President of the United States of America, billionaire Donald Trump was the butt of many jokes. More recently, the ribbing of Trump, his hair, his orange face, and his general attitude, have become quite the comedic spectacle as his campaign for the presidency is doing surprisingly (some would say disturbingly) well.
And now Trump will go where only a few active presidential candidates have gone before: Studio 8H. Today NBC announced that Donald Trump will return to Saturday Night Live as host. So when can you catch Donald Trump hosting Saturday Night Live for what's sure to be one of the highest rated episodes recently?
Donald Trump will return to host SNL on November 7th. However, it won't be his first time:
The above monologue comes from the April 3rd, 2004 episode which came together when Trump was at the top of his TV game with his then-new #1 show, The Apprentice. If you listen to the beginning of the monologue, you'll hear that Trump hasn't really changed much in 11 years as he says:
It's great to be here at Saturday Night Live, but I'll be completely honest, it's even better for Saturday Night Live that I'm here. Nobody's bigger than me. Nobody's better than me. I'm a ratings machine.
However, his monologue was certainly a little more tongue-in-cheek than his more recent statements about himself have been as he keeps the cable news cameras on him at every turn, saying whatever comes into that sparsely covered head of his.
One thing that has changed since Trump was the host of SNL that he's no longer all that friendly with NBC. Following some controversial comments about Mexican immigrants near the beginning his candidacy, NBC decided to back out of airing the Miss USA and Miss Universe pageants, prompting Trump to threaten legal action, only to end up buying the network out of the Miss Universe Organization instead.
In addition, Trump is no longer hosting The Apprentice, with Arnold Schwarzenegger set to take over the show for the forthcoming season. The change is mostly due to the rules of equal time on television for presidential candidates, which specify all radio and TV networks must provide an equivalent opportunity to any opposing political candidates who request it. For example, if Trump had his own show that he hosted on NBC, then any other candidate would be given the same opportunity. Though at this point, it probably couldn't hurt NBC's ratings.
Plenty of active presidential candidates have stopped by the show to make cameos (Hillary Clinton stopped by for the season premiere recently), which are meant to show the fun side of their personalities to a younger demographic, making for some pretty iconic moments in the show's history. However, this marks only the fourth time an active presidential candidate has actually hosted. The last time this happened, it was Al Sharpton in 2003. Before that it was Steve Forbes in 1996 (with awkward musical guest Rage Against the Machine) and the first time was Ralph Nader all the way back in 1977.
But this episode is bound to be bigger than all the others. Trump is quite the spectacle on the news lately, and the ratings will likely go through the roof. SNL will probably pull in a more conservative audience than their liberal sensibilities are used to getting, so it'll be interesting to see if they change their game at all. Maybe they'll even bring back Darrell Hammond (who has been popping up as Bill Clinton from time-to-time) to reprise his infamous impression at some point.
Seeing how far Trump is willing to go to poke fun at himself will be intriguing as well. He did recently enjoy himself on The Tonight Show with Jimmy Fallon (who never impersonated him on SNL, funnily enough) so maybe we're in for some fun:
We'll have a review of the Donald Trump hosted episode of Saturday Night Live the day after it airs. Will you watch?