Will Ferrell-Themed Bar Opens In New York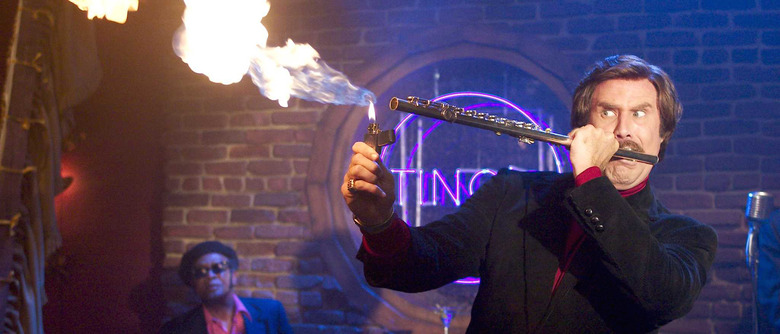 If your idea of a good Friday night is trading Anchorman quotes over glasses of scotchy scotch scotch, you'll want to get on the next train to New York City's Lower East Side. A Will Ferrell-themed bar called Stay Classy has just opened in the area, and it's kind of a big deal. Learn all about the Will Ferrell bar after the jump. 
Stay Classy is the brainchild of Will Ferrell megafans Zach Neil and Brian Link. Ferrell himself is not actually associated with the establishment. The bar had a preview opening October 1, and will officially launch on October 25. To celebrate the occasion, they're hosting an Anchorman theme party on October 23.
(There seems to be something about Ferrell that inspires people to drink. Just last month we told you about a real-life Catalina Wine Mixer, based on what Step Brothers called "the biggest helicopter leasing event in the Western Hemisphere since 1997.")
Located at 174 Rivington Street, Stay Classy goes hard on its theme. "There is an entire proper art gallery commissioned my local and national artists whom have painted sculpted and drawn custom art for the Will Ferrell character theme gallery,"co-owner Neil told People. Even the bathrooms are labeled F-Shack 1 and F-Shack 2, in a nod to The Other Guys.
Naturally, the cocktail list pulls from all over Ferrell's filmography. Items include the Glass Case of Emotion (muddled rosemary and peach, whiskey, lemon juice, simple syrup), the Mugatu Mule (tequila reposado, lime, bitters, ginger beer), and the You're My Boy Blue (Hendricks gin, blue curaçao, sweet and sour mix, and pineapple juice). Visit the website for the full list.
As Neil explained it to WPIX, "This bar is kind of like the place where a 35-or 40-year-old person could come and sit and not be intimidated by loud techno music but still be surrounded by things that are funny and ridiculous and kinda get it. That's what Will Ferrell has always meant to us."
Get a little taste of the Stay Classy bar below.