Seth Rogen Shopping Garth Ennis' 'The Boys' As A TV Series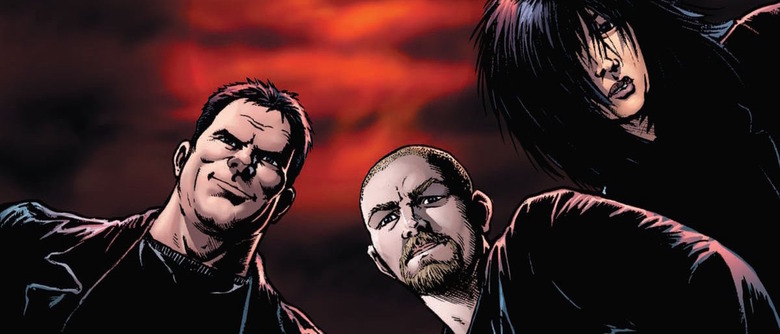 Seth Rogen and Evan Goldberg are currently busy adapting Garth Ennis' Preacher for AMC, and now they may be looking to bringing Ennis' The Boys to television as well. The comic book series centers around a black-ops CIA team tasked with keeping superheroes in line. Read about the possible The Boys TV series after the jump.
News of a potential The Boys TV series comes from Birth.Movies.Death. According to their sources, Rogen, Goldberg, and Supernatural creator Eric Kripke are shopping a small-screen adaptation of The Boys to cable networks. The comic is rife with sex, violence, and pitch-black humor, and would probably feel at home on an edgier network.
Written by Ennis and illustrated by Darick Robertson, The Boys is set in a world with superheroes. But the MCU or the DCEU this ain't. These costumed heroes are reckless, violent, and corrupt, and often do more harm than good. "The Boys" of the title are a five-person task force who keep the "supes" in line, monitoring them and occasionally taking them out as needed.
The series told a complete story across 72 issues between 2006 and 2012. A few years ago, Adam McKay was set to direct a The Boys movie from a script by Matt Manfredi and Phil Hay, but nothing came of those plans. But Preacher was similarly stuck in development before it got rescued and retooled as a TV series, and now it's heading to AMC in 2016 with Dominic Cooper in the lead role.
Maybe The Boys will have similar luck, especially considering that superhero shows are huge on TV right now. Some of them are more traditional tales, like Arrow and The Flash, but lately there's been some interest in more offbeat stuff as well, like Marvel's planned Damage Control and DC's upcoming Powerless.
This is going to hurt! In a world where costumed heroes soar through the sky and masked vigilantes prowl the night, someone's got to make sure the "supes" don't get out of line. And someone will! Billy Butcher, Wee Hughie, Mother's Milk, The Frenchman, and The Female are The Boys: A CIA-backed team of very dangerous people, each one dedicated to the struggle against the most dangerous force on Earth – superpower! Some superheroes have to be watched. Some have to be controlled. And some of them – sometimes – need to be taken out of the picture. That's when you call in The Boys! The Boys Vol. 1: The Name of the Game collects the first six issues of the hit series The Boys by Garth Ennis (Preacher, The Punisher) and drawn by Darick Robertson (Transmetropolitan, Wolverine)!