Quentin Tarantino Has Cut Two Different Versions Of 'The Hateful Eight'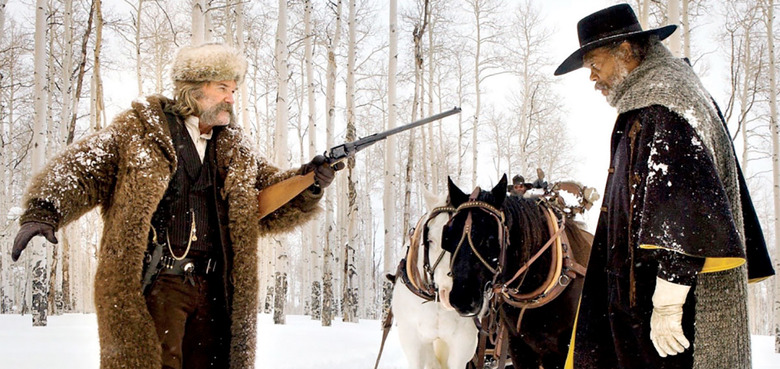 Throughout the fall of film and the rise of digital, Quentin Tarantino (Inglourious Basterds) has firmly stuck with film. Tarantino has discussed his plans to retire at 60, but he's even gone as far to say, if theaters can't show 35mm anymore, he "won't even make it to 60." Tarantino shot his upcoming film, The Hateful Eight, on 70mm. To make sure people experience the film in all its beauty, not only will there be roadshow screenings of the western, there will also be two different versions of The Hateful Eight. Learn more after the jump.
Two weeks before the film is released on Christmas day, there will be a roadshow tour screening the movie, utilizing the Ultra Panavision 70mm photography. To make that deal sweeter, the writer/director has cut together a different version of The Hateful Eight, which will only play at the roadshow. Tarantino explained this decision to Variety.
The roadshow version has an overture and an intermission, and it will be three hours, two minutes. The multiplex version is about six minutes shorter, not counting the intermission time, which is about 12 minutes.
Tarantino says the six extra minutes in the 70mm cut will feature "big, long, cool, unblinking takes." The director approached the two different versions as two different experiences.
[The longer cut] was awesome in the bigness of 70, but sitting on your couch, maybe it's not so awesome. So I cut it up a little bit. It's a little less precious about itself.
The director is hoping this event paves the way for other filmmakers to show their movies however they deem necessary:
I didn't realize what a lost cause 35mm projection was. But what I also didn't know is how excited everyone was going to be about 70. I think everybody is looking to see how we do in that first two weeks. But that's also kind of exciting. I'm hoping that Hateful Eight does well enough that that becomes, for the filmmakers who care, the new premier way to launch their movie in an exclusive way.
Tarantino is also retrofitting 50 theaters with 70mm projectors with the Anamorphic projection lenses. The director has always been vocal about the importance of the theatrical experience, and, according to Panavision's vp optical engineering, Dan Sasaki, The Hateful Eight on 70mm is going to "wow" people:
[Tarantino] really wants to get people back into theaters. You're not going to get this [at home]. He did something really great to bring that [experience] back. Quentin wanted an epic Western, something that hasn't been seen in forever, that would really wow people. [When he saw this test,] he started bouncing in his seat.
The Hateful Eight takes place largely in one location, but with Tarantino's eye and his impressive ensemble cast, you're going to want to see this movie on the biggest screen possible, preferably projected on 70mm.